Understanding Google My Business & Local Search
8 Tips to Maximize Your Branded Presence in the Google Local Search Results
With the rollout of the new grey pin local search results, Google has continued to increase the amount of information from your Places page that is visible in the main search results. This is particularly true with the new Branded One Box result.
Google is prepared to turn over to your company the better part of the information above the fold and with a little work and some luck you can maximize what the searcher sees about your business.
Click to view larger: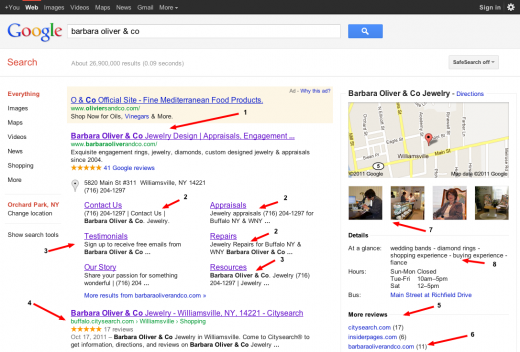 Here are 8 tips that help you maximize "your ad" on the front page of Google:

1)Select the title tag of your home page with care. If you service only one city, it is no longer necessary to include the city in your title tag of your home page. Google is using other location signals to ascertain this information. Personally, I think that brand often trumps keywords in local markets. When that is the case I put the company name first which creates a strong, clean branded visual for the user. The brand is front and center in the results.
2)With the addition of Sitelinks Google provides 6 (it can be 12 but I have yet to see that many in local) or more additional opportunities to engage the customer. It is important for the pages that display to front load the description tags with the call to action and keep them short as there are very few characters (54?) that actually display.
3)Which pages show and title tags show and why is a bit of mystery so you want to be sure to monitor what is actually showing. It means that you want to be sure to NOINDEX pages that you definitely don't want Google to have, like your 404 page. If a page does show up that you don't want showing in this display but you don't want to NOINDEX the page it might be necessary to demote the page from Sitelinks via the Webmaster tools. REGARDLESS, it means that even pages that you didn't think would see much light might need to be updated with more relevant Titles and Description tags. Google changes what shows so review the display periodically.
4)Know what other IYP or Local Directories are doing a good job on the long tail branded search for your business name and be sure that you have maximized your presence with them. That might include data, photos and if appropriate reviews.
5)Google puts their reviews front and center so including Google in your review management process goes without saying. But since Google will be showing other review sites as well it makes sense to include them in your process.
6)Google also might surface rich snippet testimonials from your site. If you have testimonials be sure that they are marked up and the testimonial page has enough internal links that Google sees the page as a prominent one.

7)With the advent of the Grey Pinned results, Google started surfacing as many as 5 photos from your Places Page. They will give owner uploaded photos priority but will use others from around the web if you haven't filled your quota. The photos shown on the front page are arbitrarily cropped to a square layout for display and are shown very small. This means that you do not want to use landscape photos on your Places page as cropping will be very unpredictable. You may want to pre-crop your uploaded images to a square shape. Because of the very small size, use photos that crop the subject close and are not too busy with details.
8)The sentiment snippets that show with your listing are the least understood of all aspects of the display. It is not clear when Google includes them and the process by which they are generated. Google does seem to put a lot of faith in Citysearch reviews and if a phrase is used frequently enough in other directories (i.e. buying experience) it may also be used.