Understanding Google My Business & Local Search
Google Places Descriptor Snippets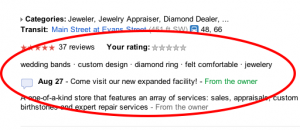 One of the changes in the rollout of the new Places Page last month was the inclusion of short descriptor snippets high on the page between the review count and the business description. The descriptor snippets, besides recently changing from a light grey to black in color, have seemed to improve somewhat over the last month. In the case of Barbara Oliver, the strange phrase "couldn't have" has been replaced with the more appropriate "felt comfortable". Note the inclusion though of the oddly spelled "jewelery".
The phrases seem to have a variety of sources including a Place's review corpus, in bound links and web page content. The algo that drives the process is not yet known but it is possible that it uses the techniques that Bill Slawski detailed for Google's recently approved patent Keywords associated with document categories.
The results displayed, while often accurate, can, can still on occasion show unusual results. I thought that this screen shot captured some of those obviously weird results. Where exactly do you think these come from?