Understanding Google My Business & Local Search
Some Days are Just Shittier Than Others In Google Places
As you know, I am addicted to following and answering questions in the Google Places forums. My penchant for the foibles of others and Google is insatiable. This posting is why I just keep going back for more.
Someone uploaded pictures of poo on my business listing and I can't get them off!!!
Topic of your question (reviews, categories, duplicate listing, etc.): VERY innappropriate Photos
Your business name as it is in your Google Places account: Jeff DiBlasi State Farm Insurance
Your business type/category (e.g. photographer, hospital, etc.): Auto Insurance
URL(s) if applicable: http://maps.google.com/maps/place?q=lansdowne+pa+state+farm&hl=en&cid=12400822114645752135

Someone put REALLY inappropriate photos of pictures of poo on my business listing.  I've discovered this business is currently claimed in 2 accounts and NEITHER account have these photos but it says "from the owner" on them.  I need these off my listing ASAP.  I've posted on other threads and reported the photos several times and I'm at a loss of what to do.  This is severely damaging to the company's reputation and it's been weeks since I first reported them.
Here is a screen shot of the Places Page. Sure enough there IS poo on his Places Page and according to Google it was put there by the owner (click to view larger 🙂 ). Take a gander at the categories while you are there.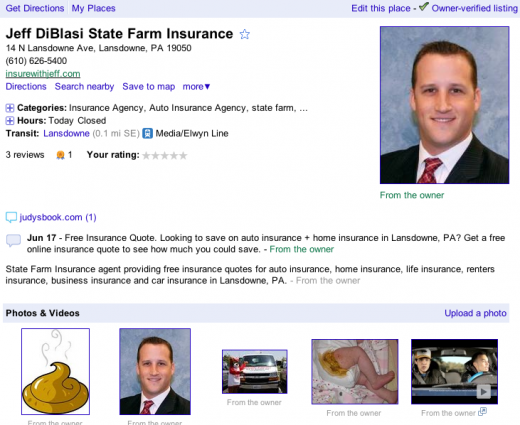 Update 1:45: Commenter Joe has noted that Google has sent in the cleaning crew and cleaned up the shit issue for Jeff's Place as of 1:45 EST. They can work quickly when need be. 🙂
Update: 3:00: I just got off the phone with the State Farm office in Lansdown and apparently someone from Google actually picked up the phone and called Jeff DiBlasi's earlier in the day. Not only can they work quickly but they seem to know how a phone works.
Update: 5:00: I just checked their Places listing and the categories have been fixed as well.