Understanding Google My Business & Local Search
Google Maps: Sponsored Icons – Pay Your Way to the Base Level & Add a Logo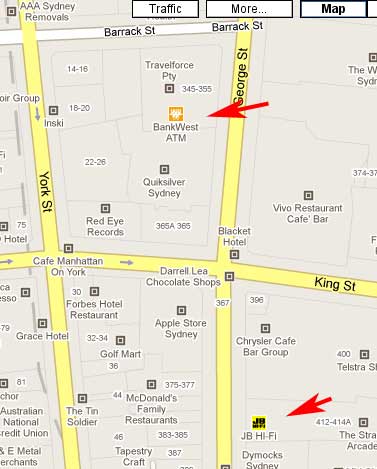 In August last year, Google Maps added icons and labels of prominent businesses and places of interest directly onto Google Maps in the form of a small icon. In the Google Maps discussion groups there has been a number of (angry) questions as to exactly how a business could get their icon embedded in the base layer of Google Maps. Until today, Google's only answer was that businesses were given an icon based on the secret sauce of Place Rank.
Now it appears, that at least in Australia,that Google has launched a new feature that builds on this feature for a price. It is not clear from the blog entry whether the program is a test or is permanent, nor what the cost is, nor whether it is a one time cost or a monthly recurring cost. The form allows you "to register your interest in Sponsored Map Icons" but gives no indication of process or time to have your icon listed.
From the post:
Now when you visit Google Maps in Australia, it'll be easier to find some of those shops and other businesses you visit most often because when you zoom in, some businesses will be identified by a small representation of their logo. These easily recognisable logos more closely depict online what the offline world looks like, so next time you're trying to find your way on the map you can navigate more easily using these icons as landmarks.
As well as making it easier for you to find the nearest burger joint or ATM at a single glance, this new feature helps local business owners promote their physical location on the map via an easily recognisable logo, and therefore connect with a larger audience. Advertisers will pay to have these sponsored map icons appear on the Map instead of a generic icon, helping to generate awareness of their locations among the millions of people who visit Google Maps every day. If you're an advertiser that would like to talk to us about having your business appear like this on Google Maps, please add your details to this form.
This test, though interesting, will likely provide little real benefit or exposure. While there has been interest in the icon in the forums, it is not clear to me that many users get to this level of detail in the Map. The pricing had better be quite low as the return would appear small or non-existent and very difficult to track. This apparent lack of obvious accountability is unusual coming from Google.
Google's obvious intent is to more heavily monetize the business listing side of Maps. One assumes from the tests of the Local Listing Ads last year, the Enhanced Listing test in Houston and San Jose that started in February and now this Sponsored Map Icon "test" that Google will have a concrete, permanent and wide spread advertising model (or models) in place in the very near future.
Update: Chris Silver Smith pointed me to an article of his from 6/07 where he noted a similar development and foresaw the move to monetization.