Understanding Google My Business & Local Search
Google Intros Local Listing Ads to LBC in Limited Markets
Google has started a limited rollout of a new fixed price SMB ad type in the San Diego and San Francisco market. The ad, which a new type of ad,  which will be highlighted with a pushpin both on the ad and on the 10 Pack Map will be located directly above the 10 Pack view.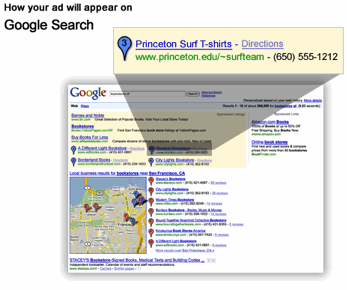 This new ad type will be accessible via a new tab in the Local Business Center and will offer call tracking and reporting. Greg Sterling has reported on this at both SearchEnginland and Screenwerks where he noted that it didn't appear that this ad type would be available through resellers. That may well be true but many LBC accounts are managed for the SMB's by their search companies. I think that the simplicity and guaranteed placement of this ad type will be appealing.
The ads will be automatically created by Google and can currently be directed to either the business's home page or their Places page. It is not clear to me that SMB's will be all that cracked up about sending their ad to a page that could very well contain competitor's ads and paying for that privelege.
Greg noted that although pricing has not been firmly established that he speculated it would run between $20 and $200/mo depending on the category and market. Pricing is always an issue for small businesses but given thGoogle's low operating expenses, pricing could be enticing. For many SMB's this could very well be their first experience with call tracking and true ad accountability. It will be interesting to see  how they value that extra accountability.
In my survey's of the top 200 listings in Google Maps across multiple categories, LBC adoption ranged from a low of 5% to a high of roughly 25%. While this program would be significantly more successful with active marketing, it offers of the possibility of significant incremental revenue to Google with no additional efforts of their part. It will be interesting to see how pricing compares to the bid based pricing in Adwords and whether the two values are tied together.
Here is Google's video on the product:

Here are Google's Help/Information pages on the product:
What are Local Listing Ads?
How are Local Listing Ads different from AdWords?
How much do Local Listing Ads cost?
this new product raises a number of operational and strategic questions:
What will the prices be for a given market and category?
Will the pricing be transparent to all, across all markets?
How long will the price remain fixed and when it does change what will the procedure be?
Will the price have a relationship to the adwords pricing and will that relationship be transparent?
How will placement be determined in competitive markets?
Will categorization be limited to the existing categories or will it allow for long tail catogorizaton?
AND THE BIGGEST QUESTION OF THEM ALL:
Will Google, now that they are charging for use start providing support?