Understanding Google My Business & Local Search
Google New UI + Local Listing Ads – What Does It Mean for Local?
Since the third week of November, Google has been testing a new streamlined interface for its main search page that offers a 3 pane view and a more guided experience. As Malcolm Coles pointed out over the weekend, this new view comes with a significant adjustment in the display of the Local Universal results, downshifting once again and now only showing 5 results instead of the Lucky 7- Pack.
In the new UI, the map is now wider, the local listings are shown below the Map and an obvious pin to a Map centric view is visible along the left menu. In an of itself, the change means more SEO competition for fewer spots. Whether the change will drive more people into Maps is unclear as highlighted Map pin is offset by fewer links into Maps.
Along with the new UI testing, Google is also testing their new Local Listing Ads display. The Local Listing Ads have been rolling out amongst more business categories in the San Francisco and San Diego markets and it seems only a matter of time when the viewable area above the fold on the main Google results page will include both the new UI and Local Listing Ads.
I was curious to see how the combination of new UI and LLAs would be presented on various screen sizes, what would be visible and what would be pushed below the fold.
Screen size 1024 x 768 (click to view larger):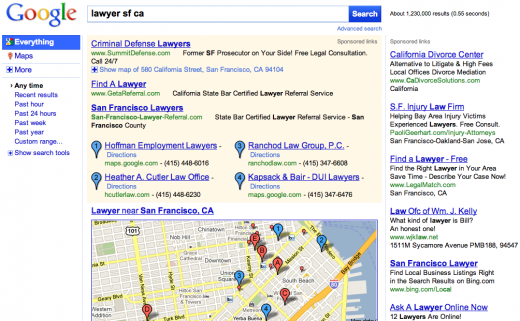 ——————————————————————————————
Screen size 1280 x 1024 (click to view larger):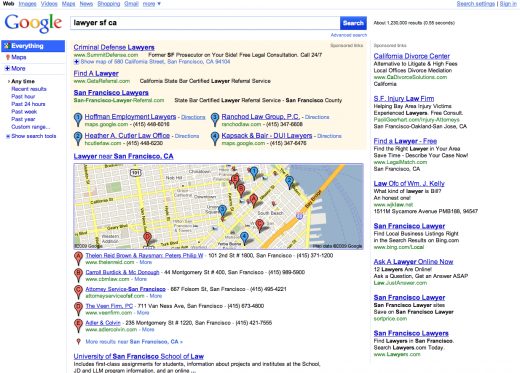 ——————————————————————————————
Screen size 1920×1200 (click to view larger):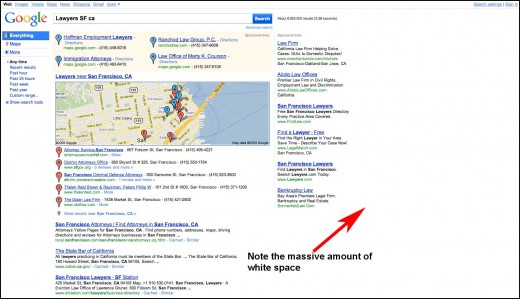 ——————————————————————————————
It is curious to me that on large displays that Google would leave so much whitespace. Maybe we will start seeing two columns of ads shortly. 🙂
Broad local search with no geo-modifier (click to view larger):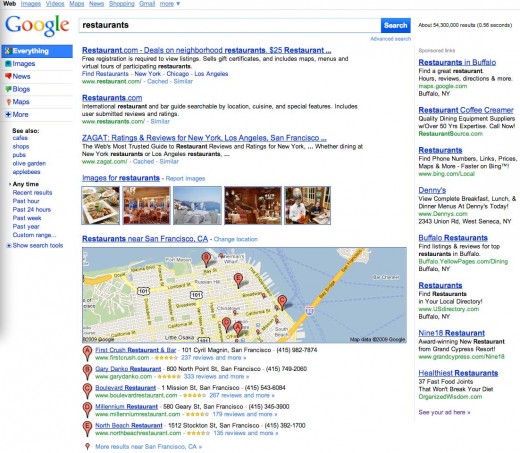 ——————————————————————————————
Change is obviously in the wind. Whether what we are seeing today will be what actually gets rolled out it, is unclear.
What do you think will be the impacts of these changes?
P.S. In case you missed it, Google Blogoscoped has instructions on how to enable the new view so that you can test your own query.