Understanding Google My Business & Local Search
Is Google Showing the Authoritative OneBox More Often?
One of the less than ideal aspects of Google showing Local Universal results is the display of an Authoritative OneBox for a broad local search like "Las Vegas Computer Repair".
However,since mid August, there have been a number of reports (here, here, here, here) in both the forums and in communications from Local Search Marketers Dev Basu and Mike Ramsey that Google has been increasingly presenting the Authoritative OneBox on more general searches that until recently showed the 10 Pack.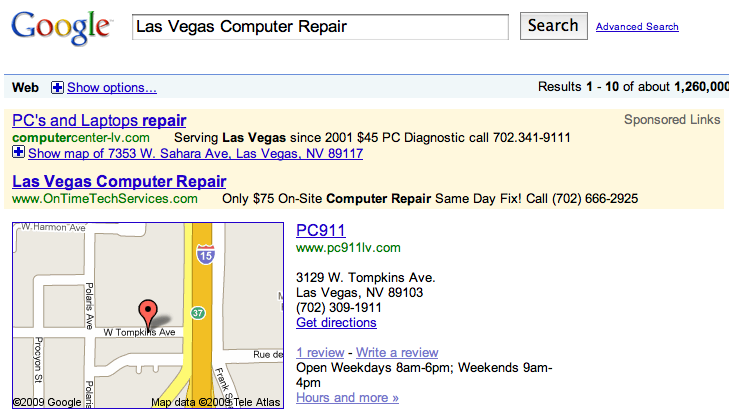 While is it every Local SEO's desire to achieve this result, it is very frustrating for businesses and searchers alike when a general service + geo search returns a singular result. Businesses that were previously shown in the 10-Pack disappear leaving the business owner wondering why and experiencing a significant drop in exposure and income. The user is left wondering how to get broader results as they are not even given an option to see additional businesses. Inexplicably from a usability point of view, this is a feature that is available with the 10 Pack.
Here is a typical angry, small business response to the phenomena that you see in the forums. Clearly he thinks that Google is on the take or experiencing technical flaws:
I really wish someone could assist, I have placed a 4 post and no one has answered or tried to assist. If this is not how you contact google staff, please tell me how I go about it. My business is not taking a major hit in phone traffic because you see it fit to place on one business in the local for for "Las Vegas Computer Repair" two weeks ago there were 10 business to chose from and now you only list my compitition. How can one business take out the map? I have tired a bunch of different companies in las vegas and they all come up with the 10 to pick from. Did they hi-jack your service or is your service one that we now have to pay for?
Fred
In the past, the Authoritative OneBox has presented itself when a user is looking for a specific business and when there is enough ambiguity in the search that Google thinks it might be a specific business. However, with some exceptions and in the case of business title spam, it was only shown rarely on broad general search terms.
It is not clear exactly what attributes of the business listing besides a similarity of the business name to the specific search leads to the OneBox showing or what exactly Google changed so that they present more frequently. It is conceivable that significant listing strength differences or user behaviors (ie searchers repeatedly selecting one listing from the 10 Pack) has caused this shift.
When I was confronted with the situation of a single restaurant showing for a City + Restaurants search I was able to regain a 10-Pack by building out the reviews and the general listing strength of another listing. I am curious if many of you have seen this phenomena and what, if anything has proven successful in reverting these broad geo searches to the more equitable 10 Pack display.