Understanding Google My Business & Local Search
New Local Listing Ad Layout & Whatever Happened to the 7-Pack for Web Designers?
Ross Jones, of 2 the Top Web Design, sent along a new layout for Local Listing Ads that he spotted on the search Web Design San Diego. Notice the lack of 7 Pack, Map & Pins and the display of the Local Listing Ads placed completely on the right side of the screen (click to view larger):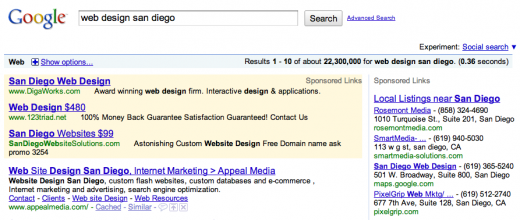 Obviously, if there is no 7 Pack, the ads need to go someplace.
The question that many designers, search firms, web hosting companies and advertising agents are asking is: What happened to the 7-Pack for all of those industries? The missing 7-packs have been reported world wide and has affected many internet and marketing related searches. There are two active threads in the Maps forums, here and here
For example none of the following show a Map or Local listing results:
–Marketing Firms Boston MA
–Local Search Marketing Portland OR
–Web Hosting Denver Co
–Web Design Los Angeles Ca
–Advertising agency NY NY
Google is apparently aware of the issue and has classified it as a bug. It appears that it was related to the previous problem of the OneBox showing too much. Here is Google's response on 11/18:
Hi Everybody,
This looks like it's closely related to the issue going on at the thread I've linked below. We realize there's something going on here, and we initially pushed out a fix a while back. There was a little hiccup with the fix, which is probably why the results in Fresno may have gone back up and then back down as addoctane mentioned above.
The team is working on this issue. Stay tuned to the thread below where I will post an update as soon as I hear one.
Thank you all for your persistence!
BB
References:
So now all you web designers and search marketing firms whose heart skipped a beat when you thought that your keyword crammed title had been finally dinged, can now sleep easy and worry another day. 🙂