Understanding Google My Business & Local Search
Big Boobs Bounce Back to Top of Google Maps
Recently, Google Maps has been enforcing spam penalties more rigorously. Even Locksmith results seem to be improving.
So it was surprising to see a report in the forums that the Authoritative OneBox was showing for this very broad search for Breast Augmentation New Jersey . Not only was it a single listing on a broad category search which has been a topic of recent concern, it showed for a statewide search phrase.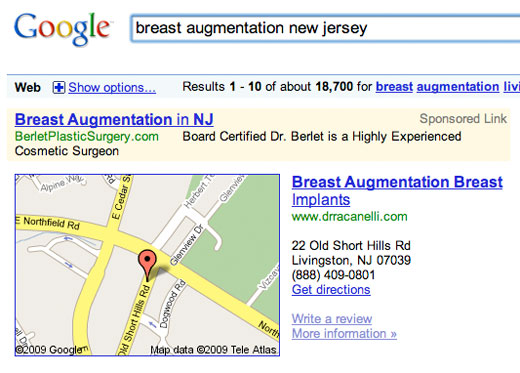 What was equally surpising was that this plastic surgeon was also showing a statewide Authoritative One Box results from the same address and phone number for Tummy Tucks & Breast Implants and showing 3 Packs for Liposuction and Abdominoplasty. Upon investigation Dr Racanelli had 5 listngs for his one address and more spam at a second address.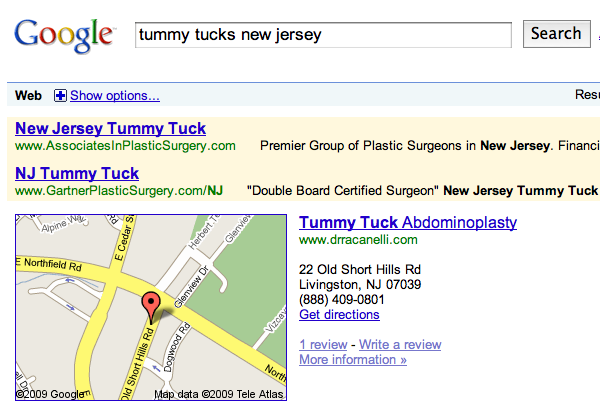 I had not seen this sort of spam since the wild west days of Brain Injured Lawyers in LA last year. Did Google's spam filters break down or has their OneBox algo gone amuck? Or maybe a West Coast SEO moved east? Who knows but the results are not worthy of Google.
Regardless, clearly it is spam and it is accentuated by the recent trend of displaying the Authoritative OneBox front and center on very broad search terms. This single piece of spam would have been much less offensive if shown in the 10-Pack.