Understanding Google My Business & Local Search
Blackhats to Google Maps: Take That!
Last week I made fun of blackhats that had mapjacked a listing for a hotel with the worst of reviews in an effort to rank high on locksmith related searches.  The screenshot from that incident shows that the blackhats had 7 of the 10 pack listing using a combination of illicit techniques on the phrase Manhattan Locksmith New York, NY.
The listings have been changing quite a bit of late and it appears that Google is trying to clean things up. Today though, a poster in the Google Maps Help Forum noted that the blackhats seemed to have changed tactics and are no longer relying on cross industry hijackings. Never ones to be satisfied with half a dozen when they can have it all, the mapspammers now have 10 of the 10 Pack listings for the search phrase Manhattan Locksmith New York, NY: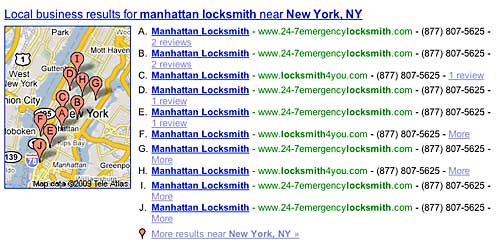 These folks are good! (For any Googler reading who might misinterpret my writing, that phrase means that they are competent at being crooks not that they are moral or decent….just wanted to be clear). I really am cheering for Google but do they ever have their work cut out for them. Here is the screen shot from 3/11: