Understanding Google My Business & Local Search
Google Maps Local Business Center now offering instant listings?
One of the dreaded aspects of dealing with the Local Business Center in the past was the long delay of the PIN/postcard validation and the listing process in the Maps business directory. The phrase Awaiting Next Update took on a sinister character that often meant 6 to 8 weeks delay and sometimes never for the record to show in Maps.
Recently Google Local Business Center has been posting my new entries & edits immediately into the Maps listing with no verification and no delay.
Here is a screen shot from the LBC of a listing I created today at 2:30 p.m.:


Here is the screen shot from Google Map listing within minutes after entry: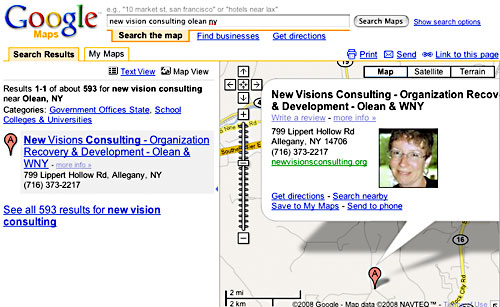 The listing is also showing at position 14 on the general search phrase "consulting Olean NY" within minutes of being posted.
This is a dramatic shift in policy on new business listings that I first noticed in early February and I mentioned here. Is Google doing this for every listing? From what I understand, no. Please let me know otherwise.
Is Google auto-approving certain types of business listings or do I have some "super user" privileges by virtue of the quantity of entries that I have made?
If it is some "signal" about the business, what could it be? This particular business is my wife's run from our home and has been operating under the radar of the data collection world. There is no external indication to Google that it is legitimate other than the whois record with a 2006 creation and the fact that the phone and street address jive. She had no YellowPage listings, no public filings, no listing in other on-line directories or primary data providers that I know of. The phone is residential and has her name listed.
If they are providing me as an active LBC user more privileges due to the large number of entries in the LBC what is the benchmark? I have 43 entries in my Local Business Center and I noticed this on entry number 39 and each of the last 4 have been "instant" on in Maps.
Regardless, this is a welcome update. It is a relief to not have to worry about when it will show up, if it will show etc. It also feels good to compliment Google. I must have the title of grumpy google basher in San Jose.