Understanding Google My Business & Local Search
Google Maps Category Mystery Part 3: Solved?
Update 02/11/10: Google has dramatically updated their category syntax. These Google LBC categories have now been placed in a searchable database too located on the Google LBC Categories page of my website.
Update 12/20/09: I have a new list of current categories at Google Local Business Center Categories – The Complete List
The most oft repeated complaint and the biggest ongoing mystery in the Google Maps for Business Group has been: "Why can't I be in the same category as my competitor?"
In Part 1 of this series, I gave some examples of the type of complaints that Google is seeing several times a week, in Part 2 I provided some background on the early research and the difficulty with categorization. I have also decided to provide a Part 4 with additional analysis so I will cut to the chase and spill the beans.
The upshot of the previous articles (Thanks to Miriam for clarity):
• Google is pulling categories from SuperPages
• These categories are not available in LBC
• SMBs are frustrated to see their competitors being shown in these desirable categories when there is no way, within LBC, to be added to them
• Google is telling people to suggest categories, but is not implementing these suggestions
• Google responses have been unhelpful!
• This problem has gone one for over 18 months
• And the complaints are coming into Google 2 to 3 times per week
It appears that with lots of research, dogged questioning of Maps Guide Jen and testing, by Patrick Hagerty with Foxtail Hill Window Replacement in San Francisco the answer has been uncovered.
Patrick and I had been corresponding and testing all possibilities since early June, 2007. He felt that it was necessary for his business to show for the search: Window Replacement San Francisco. We quickly identified the category as SuperPages in origin and his competitors were there in strength. Over the months he attempted everything that I suggested including (but by no means limited to): being sure that he had correct SuperPages categorization, that his site was optimized for the phrase, that he had updated his optional fields in the LBC with this information and more. None worked. Until…

When he suggested that he was going to remove all categories from his record at the Local Business Center, I thought that he was nuts but that he had nothing to lose. I could not conceive how Google could possibly manage their category information in that way. He decided to inquire one more time of Maps Guide Jen and she responded:
We currently prioritize the information coming from the Local Business
Center to display with your listing, but we combine it with information from
our other providers to show the best combination of information. If you
don't want to select Local Business Center categories for your listing, you
can remove them by going through the "edit" link that's next to your
business. Hope this works out for you!
The solution: remove all category information from your Google LBC listing, update your description and title field to include your preferred category phrases and let it rip. We have not yet determined whether once you remove your LBC categories your business record will at some point re-aquire your SuperPage category or not but it appears that with the LBC categories gone, it then uses the business title, the description field and the business website to make a category determination.
To be safe be sure that you are listed correctly in the SuperPages (and probably Axcion), wait 6-8 weeks for the next Google update (you didn't want to hear that one more time did you?) and your listing will show with your competitors in the correct category in Google Maps.
It is possible that Google gets categorization information from a few of their directory info partners but that remains to be tested. However a Superpage resource added: "Perhaps they only accept categorizations from partners which have taxonomic processes which they believe to be of higher quality". If that is the case it appears to have less influence the the attributes mentioned above.
Weird yes, hard to believe, yes? However it appears to be the case. So far we have but two test cases which I realize is not a large sample. For those of you that have been struggling, this is a simple test that will hopefully put you in the category that you should be in and findable on the searches that you wish to be found on.
The irony is that Patrick had finally achieved a Top 3 OneBox listing and a week later Google introduced the Local 10-Pack. He wrote to me: This is good news for those businesses that were on the second page previously but bad news for those of us who had worked hard to earn our privileged spot in the Onebox and now have to share the position with nine others.
So here is a model of how it appears that Google internally generates their category information (for a full page HTML view):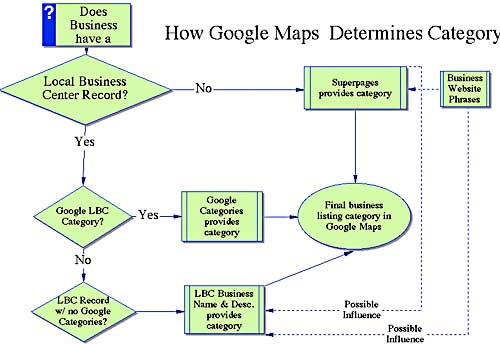 If you test this idea, I would love to hear of your success (and failures). If you can help refine the above model please let me know. As with all things Google, caveat emptor.