Understanding Google My Business & Local Search
Google Coupon results in Main SERPS Part II
Yesterday I noted that Google Coupon results were showing up in the main search results page for coupon related search phrases. Miriam Ellis who writes a local oriented blog SEO Igloo asked whether using coupons for non-retail oriented deals was a useful strategy.
I have several local search clients that have added service oriented coupons in an effort to 1)test the coupon idea on the premise that they couldn't hurt* and might generate direct traffic and 2)to see if they helped their rank in the local results. While we have not seen many coupon redemptions, it does appear to have a positive impact on the local standing.
However we had a pleasant surprise as in addition these coupon results also started showing up in the main search results pages for "general service + location" searches. Google Coupons are low cost and easy to implement. Given Google's penchant for increasing "localness" in their search results, these coupons may just show up that much more often in the future.
For example on the search insurance Olean, NY the Google Coupon results linking to the client coupon are on the first page of the results: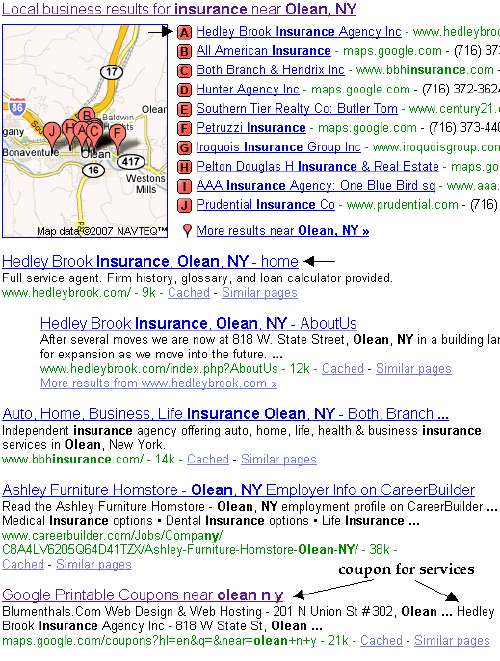 *The Hippocratic Oath of Search: Do no harm.