Understanding Google My Business & Local Search
Google Maps: New Local OneBox 10 Pack now live?
Update 1/22/08 9:40 PM EST It is once again appearingThe newly formatted Local OneBox expansion (first spotted by Paul Jahn last week and seen again on Sunday) from 3 entries to 10 now appears to be live. It started showing up last night and local searches are still returning the new OneBox as of this morning. Is it appearing internationally? Does it appear on every server across the U.S?Here is a screen comparison between the "neo-classic" 3 pack and the new Local OneBox 10 pack:

To view this comparison at full size click here.The points of interest to me are:
•The area of coverage provided by the map is greater. This implies to me that there will be greater (although not likely an exact) match between the OneBox and Maps results
•It appears to have decreased the frequency of the Authoritative OneBox (more testing required)
•It actually is only occupying 10% more vertical room than the previous Local OneBox by making the pins smaller and going to one line instead of the three lines in the "neo-classic" Onebox. Occasionaly if there are long names or domains in the listing the text will drop below the Map image and take up slightly more space.
•This is done by having less information and fewer links for each listing. Also the pin is smaller.
•The new result also adds 14 additional links into Maps. Thus it seems that more traffic will be driven to Maps proper.
•It is also of interest that the reviews are emphasized as opposed to directions in the current OneBox. If there are no reviews than the "more" link is present.

On some rural searches that I experimented with where the service provided is "weak" this causes a degradation of the quality of results as 5 of the 10 listings did not really provide the service requested. It is not clear how Google will resolve this issue going forward. In my opinion, on urban searches there will be increased user value in the results.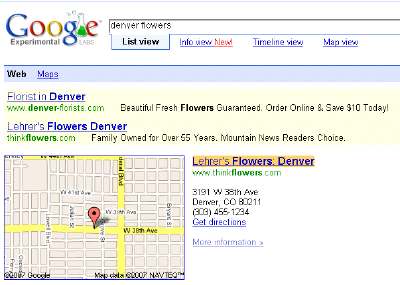 On many searches that previously returned the Authoritative OneBox, the results now list the new 10-pack. On the most infamous of Authoritative OneBox (Denver Flowers) it is still returning the Authoritative OneBox for Lehrer's Flowers. However on the singular search phrase: Denver flower it is returning the new 10-Pack.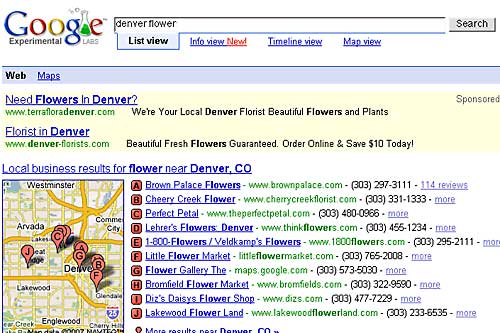 The new 10-pack seems to me a more equitable presentation of local data. It appears though that strongly optimized sites and local listings can still achieve authoritative status. It is not clear to me that the end user when searching on 'Denver Flowers" really wants a single response and it seems to do a disservice to both the other businesses and the public.