Understanding Google My Business & Local Search
How Google Helped Foster the Fake Review Economy and Benefits from It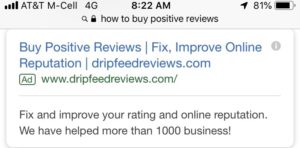 Fake reviews are a long term AND growing problem at Google. The unfortunate reality is that Google helped create this illegal market place and benefits from it economically.
Google has, over the years, created both new opportunities in existing markets AND created new market opportunities. 
And Google often touts the economic benefits that it brings to society.  In fact Google claims that "last year, Google's search and advertising tools helped provide $283 billion of economic activity for more than 1.5 million businesses, website publishers, and nonprofits nationwide".
Unfortunately Google doesn't much care whether the activity created is legal. And they only proactively go after illegal activity once it has become a visible public relations problem.
The drug rehab space comes to mind (although there are many other previous and current examples). Google did very little until the Verge expose by Cat Ferguson brought national attention to the abuses of needy people by unscrupulous Rehab Centers in the fall of 2017.
This pattern of market creation and profiting from illegal activity on Google's part is no where more true than with fake reviews. 
– Google created search results that favor businesses with more reviews. 
– Google has rarely created significant barriers to fake reviews, often allowing them at massive scale. 
– New businesses sprang up to help local businesses get more, often illegal, reviews. It would appear from the scale and increasing frequency that this has become a criminal enterprise that includes threats and retaliation to those that report them.
– Google supports a vibrant market place for businesses to sell fake reviews using Google's organic, email, video and ad platforms. 
– Google profits from this illegal marketplace by selling AdWords into the space
– Google has done little to dampen or eliminate the fake review market despite the fact that it is both against their terms of service and a violation of state and national laws. And Google externalizes the costs associated with identifying the spam review to volunteers. 
– While there has been some limited public relations blow back on the review front, Google has not yet put in place adequate filters for fake reviews, does not filter these illegal results from their search engine and apparently has not enforced rules in Adwords that prohibit advertising their acquisition. 
– Ultimately, after years of neglecting growing problems, when the spam  gets so bad that it makes the product worthless, Google tends to throw up their hands and create a pay to play product like Local Service Ads or Google Shopping.
It really doesn't matter where you look on Google, the activity to sell fake reviews is obvious and easy to find. 
Last week, a Gmail user solicited me to buy illegal reviews. I had a long and interesting back and forth with him (I assume it is a him) about the quality and reliability of his product. He notes that he only uses long standing Google accounts and can thus guarantee that he can get me  reviews every month .
All the accounts that we use to post the reviews are 6-10 years old that we have been maintaining as a real person would do, that is why we are able to maintain more than 95% success rate with the reviews we post and that is what makes the reviews look organic and real.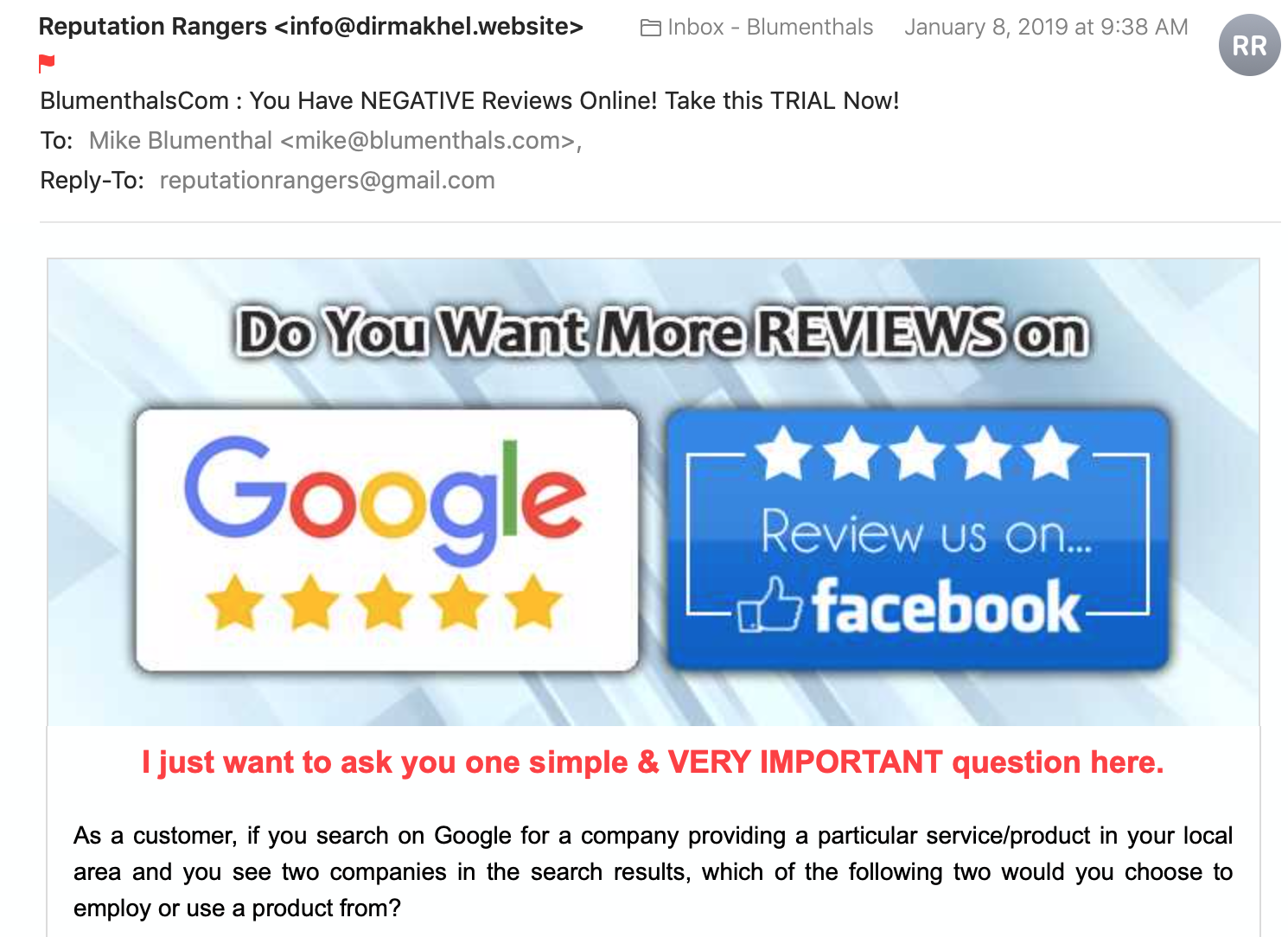 After some negotiation, he guaranteed that he could provide me with 10 Google reviews every month on his subscription plan for only $50. And the first month was free!
Search Google for buy fake reviews and while the first few results are why you shouldn't buy them, I am sure that the organic result in the number 4 position gets most of the click throughs.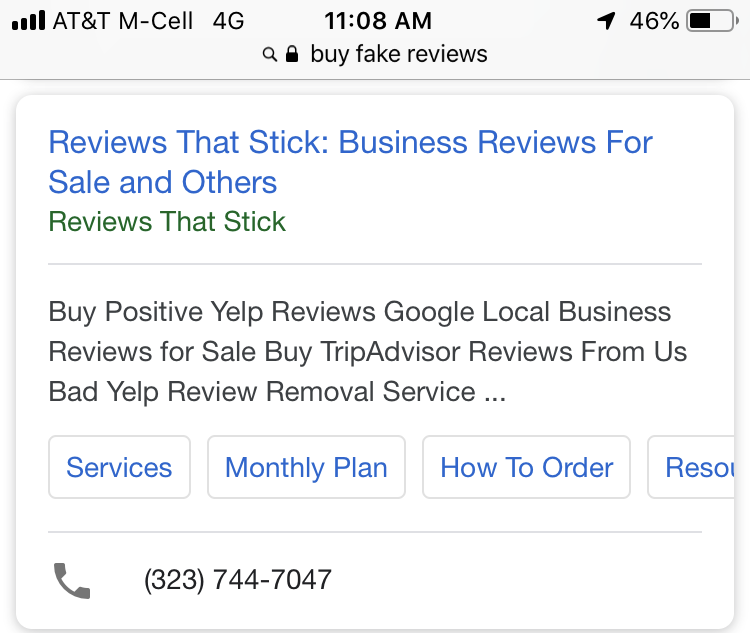 A quick search on YouTube finds fake review offers at the top of the results.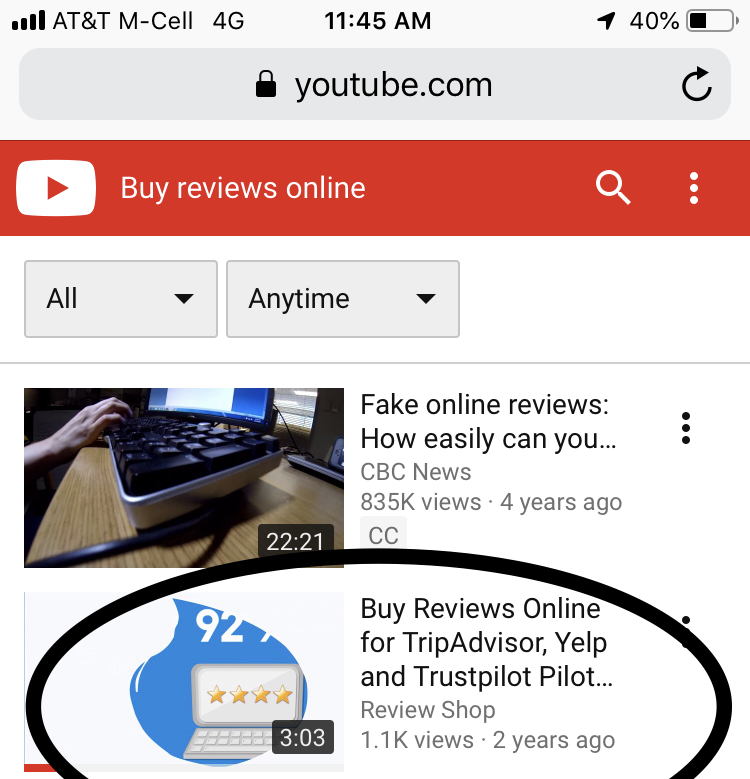 Never one to leave a new market place untapped, Adwords continues to provide opportunities for businesses to sell into the space.  And for Google to profit from this activity.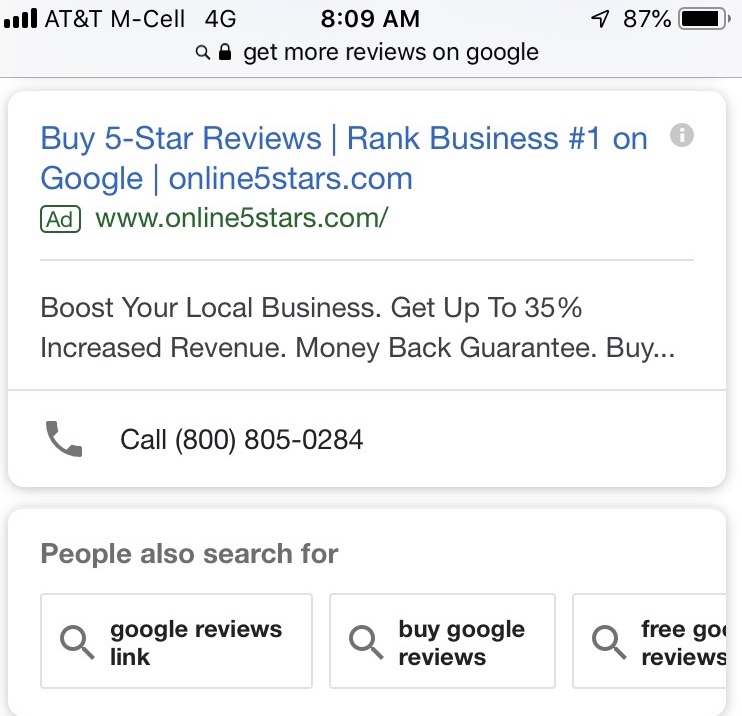 Google lives in a very strange world, with near categorical protection from use of their platform by bad actors, only reacting when a problem becomes so big that they have to respond or face the wrath of the public and the government.
Fake reviews certainly warrant a response from Google. Legitimate businesses are hurt every day and more importantly consumers world wide are deceived. And yet they continue to act as if it isn't a critical issue.
Google's failure to act decisively in the review space, now that they are THE local monopoly and dominate the review space, will ultimately decay consumer trust in reviews and lead to the failure of reviews as an alternative to traditional word of mouth.
What will it take to make them respond? It remains to be seen.