Understanding Google My Business & Local Search
Google My Business Websites Zoom Past 10 Million as Asian Adoption Accelerates
In June of this past year, as Google My Business Website reached the age of one, I noted that businesses had created 2 million of these single page mobile ready websites.
The rate of uptake, particularly in Asia and Brazil, has accelerated and there are now almost 12 million of these sites world wide. 10 million of these sites have been created in the past 3 and half months.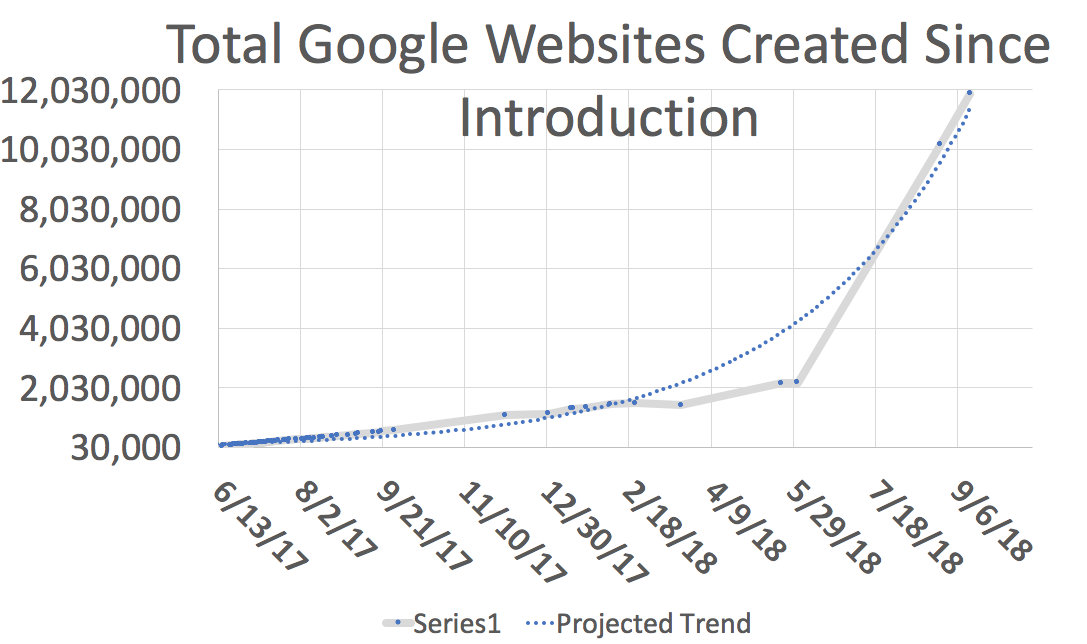 What has happened?
While growth in the developed world was solid, growth in Asia was spectacular. Both Indonesia and India have each surpassed 4 million sites in their countries. Indonesia saw increases of 309% per month while India saw monthly increases of almost 200%. This incredible Asian growth story boosted world wide growth to 125% growth per month.
The top 10 spots for the leader board of the countries with the most Google websites saw 9 of 10 countries the same as June. Viet Nam, with monthly growth greater than 100% replaced Germany in the number 10 spot. And Indonesia's outsized growth allowed it to take the number one position from India.
| | | | |
| --- | --- | --- | --- |
| Country | May '18 total Sites | Sep '18 Total Sites | Increase Per Month Since May |
| Indonesia | 373000 | 4,410,000 | 309% |
| India | 536000 | 4,200,000 | 195% |
| United States | 195000 | 568,000 | 55% |
| Brasil | 71700 | 371,000 | 119% |
| Türkiye (turkey) | 106000 | 286,000 | 49% |
| Mexico | 73900 | 241,000 | 65% |
| 日本 (Japan) | 60000 | 123,000 | 30% |
| Italia | 63000 | 121,000 | 26% |
| France | 56500 | 114,000 | 29% |
| Viet Nam | 24,400 | 111,000 | 101% |
| All | 2,210,000 | 11,900,000 | 125% |
Some Factoids to Think About
Going from 2 million at the end of May to nearly 12 million today means that Google has been adding almost 93,000 sites per day.
India and Indonesia with 4.2 and 4.4 million sites respectively have created 72% of the total sites.
The other top 8 countries have created an additional 12% of the sites while the remaining 155 or so other countries in the world have created 12% of the total.
Indonesia has been adding sites at the rate of 38,500 new sites per day.
There are roughly 100-125 million businesses worldwide in Google Maps. The total uptake of GMB Sites represents roughly 10% of those businesses.
What does it Mean?
Google built Google My Business Websites for the "next billion" users or so they said. The reality is that in much of Asia, where the population never used the desktop web, Google had fallen way behind Facebook in SMB penetration & adoption. They had been marginalized. Google needed an "open web" so that they could leverage their existing technologies to understand what these many businesses were doing and where they were doing it.
When the open web never developed in that region as businesses and users jumped right to the Facebook app on phones, Google was confronted with an existential threat. The resultant Google website product, which has garnered them both basic business listing data and more nuanced information about the businesses there, was an "open web" created in Google's image.
In this Googly version of the "open web" not only is Google able to control aspects like the speeds of these websites on mobile but is able to understand consumer behaviors when visiting them as well.
No Analytics needed here as Google already controls the whole enchilada. While Bing and Yandex can scrape these sites for inclusion in their indices the bulk of the data benefit accrues to Google and to a lesser extent, the business creating the site.
The impact of these sites on the current ecosystem of websites in the developed world has so far been minimal. These sites are not (yet?) really a replacement for a well done website and they don't offer anywhere near enough "juice" to compete in the world of SEO.
But these sites do and can rank and they do in fact suffice for many low level uses. In the developed world, as currently designed, these sites function well for any business that doesn't already have a site, or may have an old non mobile, that don't have the resources in time or money to build a full blown  site or perceive that the gains are not worth a larger investment.
What is turning out to be a competitive Asian strategy for Google to attract the next billion users (and several millions of businesses) could very well end up being a disruptive force to web development at some point in the future in the developed world as well.