Understanding Google My Business & Local Search
Google Websites Passes 250,000 Sites Created
It has been just over a month since Google My Business rolled out Google Websites worldwide. It appears that as of a few minutes ago, Google has passed a quarter of million sites built using the tool. That is roughly 40,000 sites per week, an average of 5681 per day since introduction.
In the first two weeks, Google added 100,000 sites. Google has essentially maintained that growth rate for the past two weeks, adding 104,000 sites since June 27th. This is only counting sites that didn't buy their own domain. I am not sure that there many of those but there are likely a few.
Every few days since just prior to introduction I have been doing a site:business.site search at Google to get a sense of the ramp up. While admittedly an imprecise measure, it provides some idea of the rate and volume of sites created.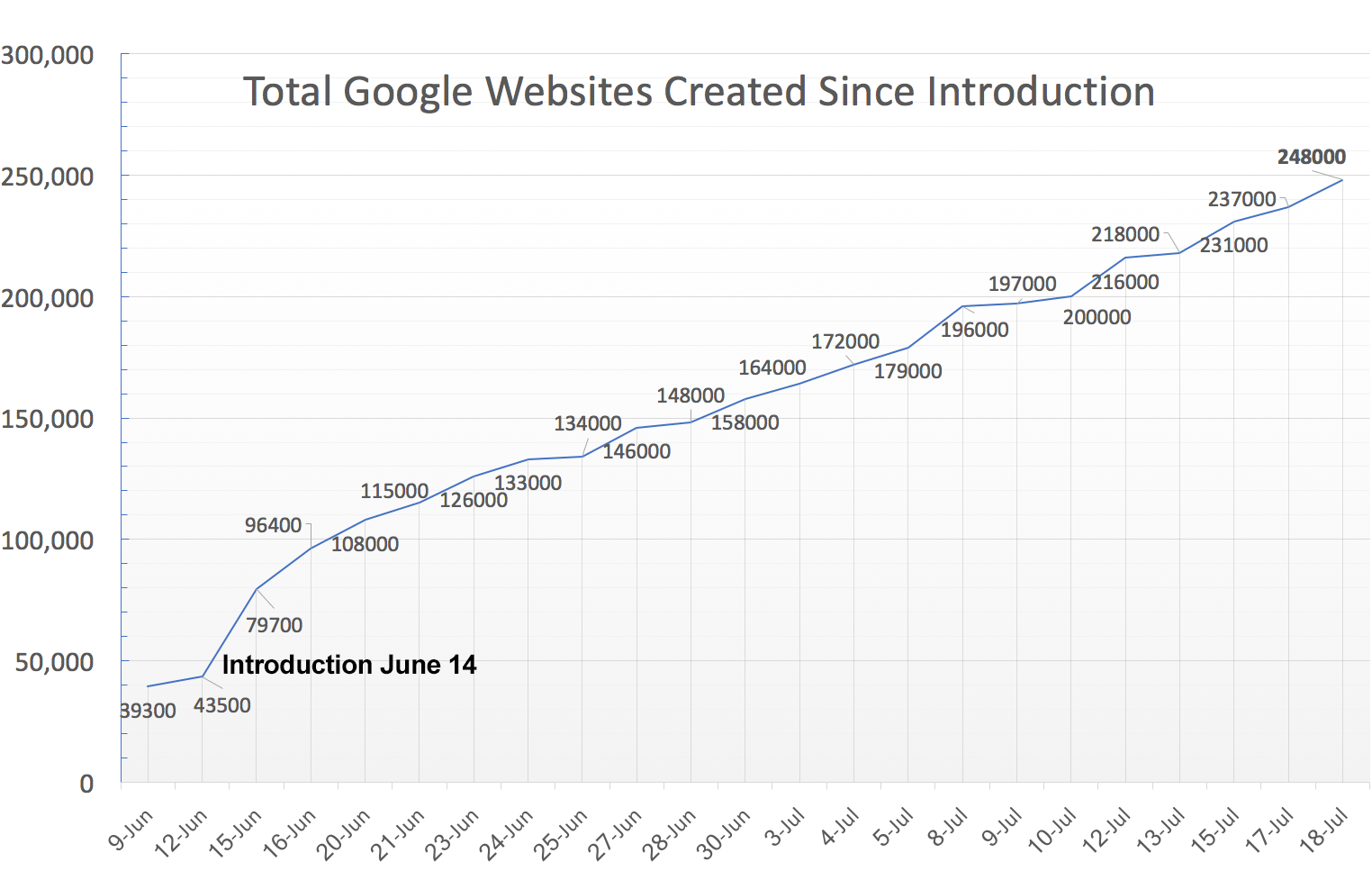 India has the most sites clocking in at a total of 44,600. Indonesia has ~30,400. The United States and Brazil check in at 16,200 and 15,800 respectively. This speaks to Google's stated goal of attacking the (very) small business market in the developing world.
Here is a rough breakdown by country where the Websites were created (note that if there is a __ in the result it means that I did the country search in the native language) :

Country
Total
Pages
India

44,600

Indonesia

30,400

United
States

16,200

Brasil

15,800

Türkiye
(turkey)
9,115
Argentina

7,820

__
(Japan)

6,870

Italia
6,280
Espana (Spain)
5,270
______
(Russia)

5,120

France

4,560

Deutschland
4,300
United
Kingdom
3,570
Mexico
3,470
Polska
(Poland)

 

3,285
Viet
Nam
2,880
Canada

2,720

Australia

2,620

______
(Greece)
2,354
_______
(Ukraine)

1,760

Malaysia

1,730

_________
(Thailand)
1,410
South
Africa

1,220

_______

(Algeria)

977
Philippines
926
____
(Korea)
829
Magyarország
(Hungary)

547

Chile
527
________
(bulgaria)
487
Bangladesh
471
Nigeria

366

Sverige
(Sweeden)
341
(Egypt)___
221
Norge
206
Kenya
191
Venezuela
160
myanmar
144
Peru
127
Cambodia
120
Columbia
118
(Iran)
_____
43
190,155