Understanding Google My Business & Local Search
Google Spam Hall of Shame
This week's Google Spam Hall of Shame nominee achieved a double double score in the race to be nominated and secure this week's nod. The offender has 13 words (96 characters)1 in his business title and somewhere north of 20 fake reviews.
I discovered the listing via my on-going review spam research and I loved his name so much that I had to give him this week's award. Let me know if you agree.
With a name like "Photo Experts, Los Angeles Headshots Photographer Scanning Lab, UPS Shipping, Notary, Money Order", how could you NOT do business with them?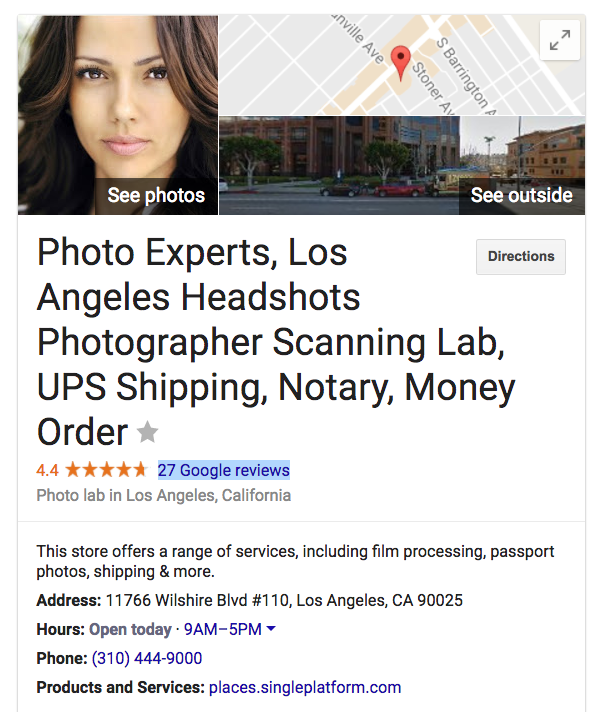 And their incredible review profile, seals the deal.
Many of the reviewers fit the clear pattern that I identified in my review spam article. If it isn't obvious, Google didn't dig very deep with the data that I originally provided them2.
Andy B. Brian is among them. One can only surmise, given how obvious the pattern is and how easy it would be to take down the whole network with a little bit of code, that Google currently just doesn't give a s&!t.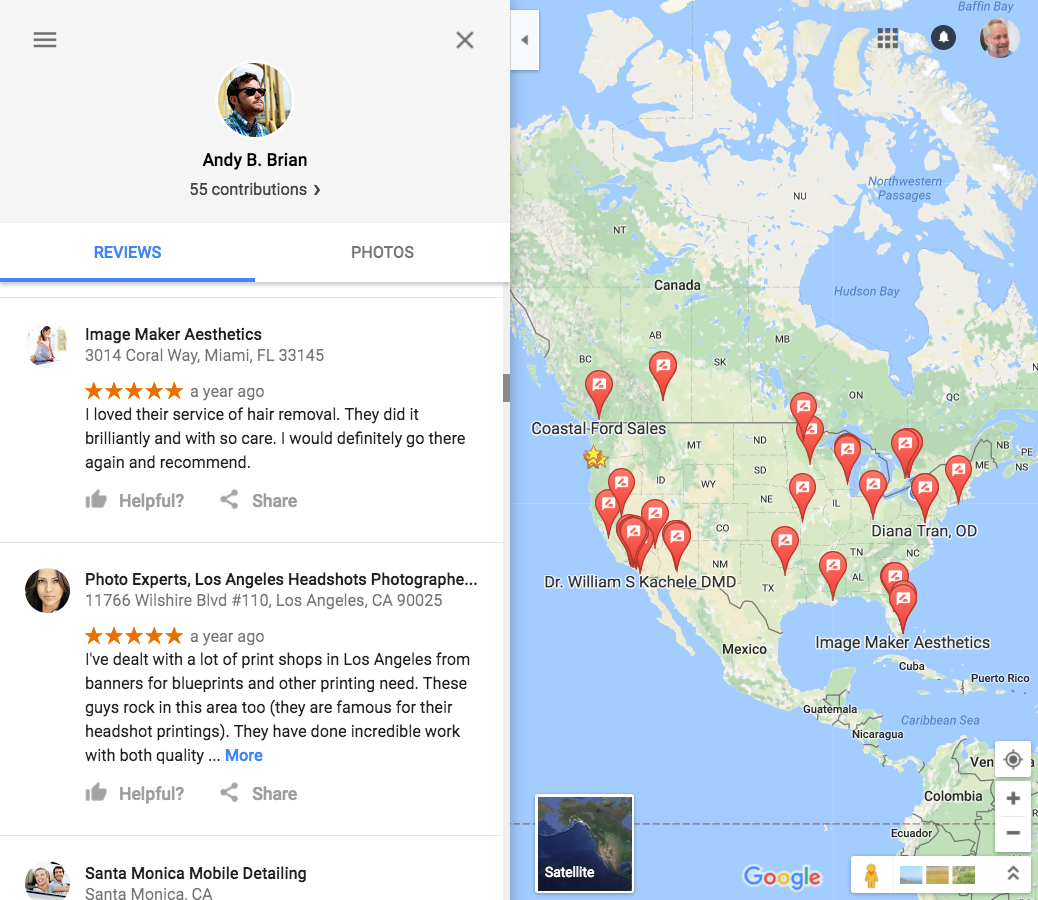 Given the number of fake Google reviewers, one has to be somewhat suspicious of his Yelp profile as well.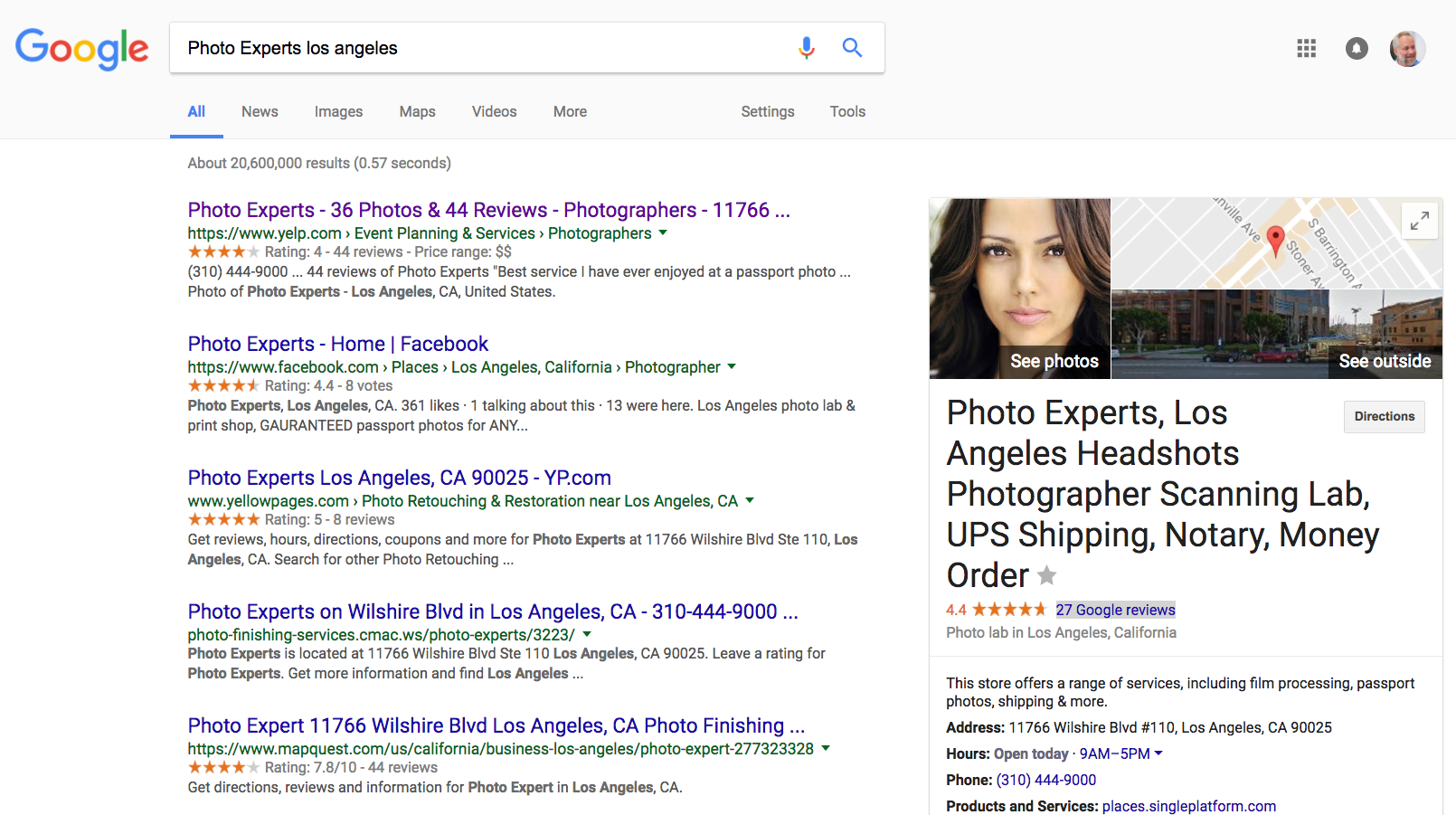 The Runner Up this week was Window Cleaning Company Houston (Window Washing Company), while they got extra points for squeezing the word "window" AND the word "company" in twice, and for having 78 fake, five star reviews, the fact that their business name was only 56 characters left them out of the victory circle.
1 – Am I going to have to go and figure out the field limit? Sheesh… you folks are falling down on the job.
2– It's amazing how trusting and naive that I am. Having given Google 100 obvious spammers, with an easily coded rule to find more of them, I just assumed that they would spend a few minutes, write the code and zap 20,000 reviews. Although I was hoping that the number might be as high as 100,00. Heck I had done the hard lifting. Boy am I gullible.
You would think that I would have learned by now. I remember, I think it was 2008, when the then head of Google Maps told me that they had left the spam in so that they could "train their system" who the bad actors were and that soon (very soon) they would have a handle on it. Good thing I didn't hold my breath.