Understanding Google My Business & Local Search
The Largest Review Spam Network Ever Or… Who is Shazedur Rahman and why should you care?
The title, The Largest Review Spam Network Ever, might seem like hyperbole. While I don't yet know the network's full size, it is responsible for tens if not hundreds of thousands of fake reviews. If you are interested in stories with happy endings, you would be better off reading some other post0.
Now onto the more important question…
Who is Shazedur Rahman and why should you care?  

Apparently she is a world traveler that purchased her wedding ring in Israel and eight months later hired a PI to track her husband down in Cebu1. She had her cell phone fixed by the same franchise in both Toronto & Vancouver2 and procured Pest Control services in both NYC and San Antonio. While in Austin she had her children's teeth examined but prior to doing so checked out four other dentists before she chose Dr. Melanson.
Shazedur has had her cars shipped from Seattle to Kansas City, Portland to NYC and from Simi Valley Ca to someplace. Oh and for some reason she doesn't like3 the cigars from Sam's Smokes in Brisbane, Australia. Did I mention that she studied mortuary science in Wheeling Il.
All of this and more has occurred within the last year. Truly a renaissance woman.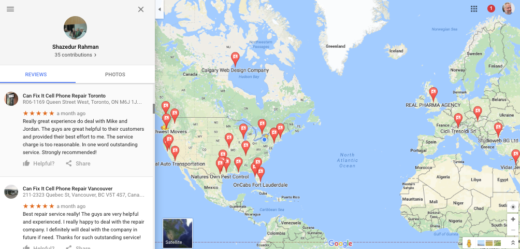 OK. I confess. She's a review spammer. But you already figured that out.
What you haven't figured out is that she sits amidst one of the largest review spam networks I have seen and I have been unable, due to its size, to get anywhere near the end of it.
Worse, I have been unable to get it removed from Google.
I have no idea how many fake reviewers are in the network but every time I click through to another business using the service I find 10-20 more. They go on and on.4
The Pattern(s)
When you start cross checking her reviews against other reviewers you find a similar pattern of reviews over large geographic areas5, for businesses that often have spammy names6, they are frequently in the service industries rife with spam7, the reviewers often review similar types of services in disparate locations8, and the reviews contain conflicting life stories and obviously fake identities9.
And there is always an overlapping of businesses that they review in common with the other reviewers. Usually any reviewer has no more than 3 reviews in common with any one of their compatriots.
While the pattern is obvious it is apparently too subtle for Google's algos or human reviewer to spot.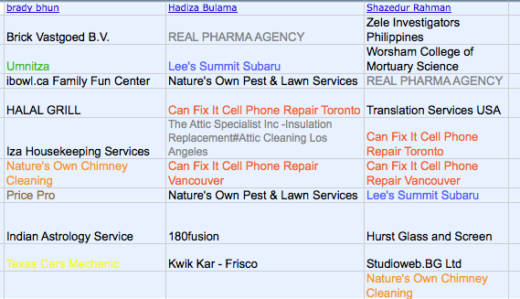 How many are there?
I have no idea how expansive this network is but in the hours I have studied it, I have found at the very minimum a hundred reviewers and many more businesses10.
Life is too short to get to the end of it but if I were to guess I would put the businesses in the many hundred or perhaps thousands and the fake reviews in the tens of thousands and maybe in the hundred of thousands range. I don't know the numbers other than to say that both are quite large.
Time for Google to step up
Review spam at this scale, unencumbered by any Google enforcement, calls into question every review that Google has. Fake business listings are bad but businesses with 20 or 50 or 150 fake reviews are worse. They deceive the searcher and the buying public and they stain every real review, every honest business and Google.
Its time11 to remove the bogus reviews.  In the past Google has banned the reviewers who have left the bogus reviews but I think that it is time to penalize businesses that use them as well.
What good is a "real listing"12 if the reviews are fake?
0 – As a digital guy, my footnotes need to start with zero, particularly if one has added a paragraph after all the other footnotes were done. No story is completely original. Nor is this one. I would like to thank Jason Brown who originally pointed out the fake reviews that led me down this rabbit hole. And of course Lemony Snicket.
1 – Where the F&*k is Cebu? Apparently an island in the Philippines.
2- For the life of me, I can't figure out why she didn't like Elk Grove Wireless Repair in California. She must just like those Canadian repair folks better.
3- There is the occasional 1 star review given. I assume that these are clients that have left the service.
4- Here are some of the personas that I found. If you want to contribute to the spreadsheet, start exploring and add them here.
5 – I get that any one reviewer might travel the world. But when there is a pattern of similar reviewers leaving reviews on similar businesses over a similar time frame it is more than coincidence. 
 6- I particularly like the one named The Attic Specialist Inc -Insulation Replacement#Attic Cleaning Los Angeles. Could you get it any long? That is just a rhetorical question as I am sure that you can. I have no idea of the field length. 
7 – Think the same list of "miscreants" that Google identified in their recent fake listing research.
8 – Jessica Riedel used a Milford, OH water damage place, National Garage Remotes & Openers in AUSTRALIA, SmartPhone Quick Fix in Orlando, oh,  a bath remodeler in Columbus OH and a video security system installer from Ottawa On, water damage pros from Ca and a Denver Plumber… oh and a window installer Sanderson Windows in the UK. I get that any one reviewer might travel the world looking for home repair services. But when there is a pattern of similar reviewers leaving reviews on similar businesses over a similar time frame it is more than coincidence. 

9 – Tubbe D. Vann left reviews for the a moving company. And you have to love Pippin Sackville, who  also did business with Sanderson Windows in UK and funny… the same garage opener company in Australia. He happens to  have the exact same profile at The Perfect Man on Twitter.  Google's review filter might not be working correctly but a Google image search correctly guessed that the profile photo belonged to Marco Drapper, who I have no idea who he is. At least one of the folks doing this is having fun. 
As a side note to my footnote (is that even possible?) a bit of Lord of the Rings trivia: Camellia Sackville was the daughter of the head of the Sackville Family.[1] She married Longo Baggins, the son of Mungo Baggins.
10 – Here is a list of 60 reviewers that I have initially identified as having an obvious pattern. They have each reviewed between 10 and 50 businesses (I found a larger number of "unseasoned" reviewers that have left between 2 and 10 that I also suspect of being in the ring). There is some overlap but for just these initial findings and these few reviewers we are talking 1200 or so businesses and perhaps 25000 fake reviews. The number though likely goes quite a bit higher than that as I have just begun to scratch the surface.  
11 – OK its past time.
12 – Google and I are in disagreement as to the definition of fake listings. Then naturally, we are in disagreement as to the meaning of its opposite; real listings.