Understanding Google My Business & Local Search
Google Adds Product & Service Menu Links to the Knowledge Panel
Google is now displaying a Product/Page Link in the Knowledge Panel and providing direct entry of the link via the Google My Business dashboard.
Last week Google added the ability for individual restaurants to add their menu links to the GMB dashboard and have them show in their branded KP result. At the time it appeared to support service menus as well but it was buggy1 and the feature was temporarily pulled. The feature is back and appears to be now fully functional.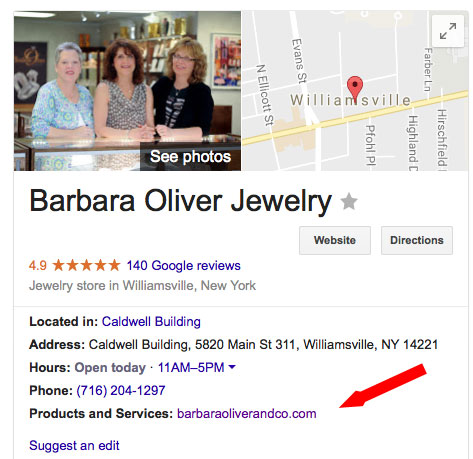 The Google Knowledge Panel has largely become a business's new home page. By that I mean that the bulk of consumer to business interactions are now occurring ON Google and not on their home page.
In Barbara's case at a ratio of 3 to 1. She gets three times the number of calls and driving directions from Google than she gets from her website. In having looked at a large number of businesses over the past several months, I believe this to be generally true of most businesses.
Given that, the ability to add a link directly to the Knowledge Panel, creates one more focused opportunity for a business to interact with a customer when they do click through from the Knowledge Panel.
While many interactions are taking place on Google, the bulk of the remaining direct client interactions are taking place on her website via traffic referred by Google. That makes your product service page one that could get increased views and increased opportunities for client interactions and conversions.
When I wrote about this feature coming to the API and likely coming to the GMB (in  Menu Attributes – Why Your Services Page Just Got More Important ) I noted:
Whether you are a spa, a jeweler or any business offering a range of repair or personal services you should take some time to be sure that your services page is clear, enticing and offers clear calls to action. While any page can now function as the home page due to the nature of search, some pages are more important than others. By linking to your page from local results, Google might just have elevated your services page from obscurity.
1 – As a note, the feature is still a little wonky, When you first add the service menu link, it is displayed with the link in red and crossed out. However if you refresh the screen that goes away.