Understanding Google My Business & Local Search
Google Finally Adds Menu Link Option for Smaller Restaurants to GMB
The Google My Business Dashboard now allows restaurants to add menu URL. Last December, Google updated the GMB API to allow for a menu URL attribute to be added. Yesterday they announced that the feature is now available to regular dashboard users via the Google My Business New Features Page.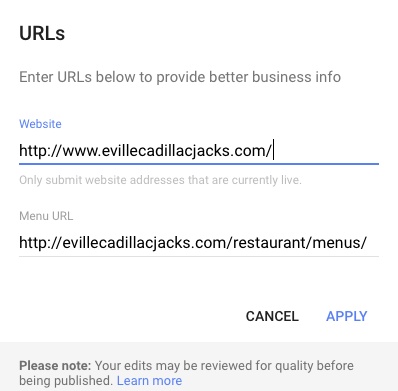 Many restaurants use PDF file formats for their menu but this is apparently not accepted. And there is only one URL space for a menu. Most restaurants offer up multiple menu pages for lunch, dinner and desserts so a business needs to make a choice as to which menu to share.
Last December when I had spotted an early version of the feature I noted: Giving this feature directly to the small business owner will solve one of the persistent and annoying problems that crops up in the GMB forums IF owners are given enough control over their menus AND 3rd party order options that Google auto loads. Few businesses want an outdated SingPlatform page as a default, uncontrollable link in their Knowledge Panel.
Google guidelines delineate two types of menus:
A menu for an eating and drinking establishment (like restaurants or cocktail bars) that lists the complete set of food and drink items that are available at the business.
A menu for a service business like a barber, spa, or car repair shop that lists the complete set of services that are available at the business.
However it appears that the interface does not yet support a service page and automatically prevents its inclusion: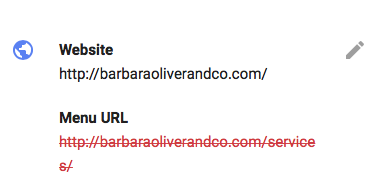 Although the feature description implies that they will accept something beyond restaurant menus: Enter URL attributes for your business to add links to more kinds of information, like a restaurant's menu.
Single location restaurants will appreciate the opportunity to directly control this feature as many are tired of Google's previous insistence to include a 3rd party menu no matter how old and crusty it might have been.