Understanding Google My Business & Local Search
Google Partnering with HomeAdvisor to Add Services Booking to Local
CNBC is reporting that "as of today, homeowners searching for contractors on Google will be shown results that are "HomeAdvisor screened and approved" and come with profiles, price estimates and the ability to "book now" or schedule an appointment to compare estimates for work".
This appears to be a new ad format although as of yet there are no details what it costs and where the payment is made. It is not clear if the process is completely driven by HomeAdvisor or if the business needs to interact with Google directly. It is also not clear what happens if the selected business is not immediately responsive. Does the request go to the next plumber in HomeAdvisor's queue.
I have yet to see a live example of the booking screen but here is the screen example shown in the CNBC article: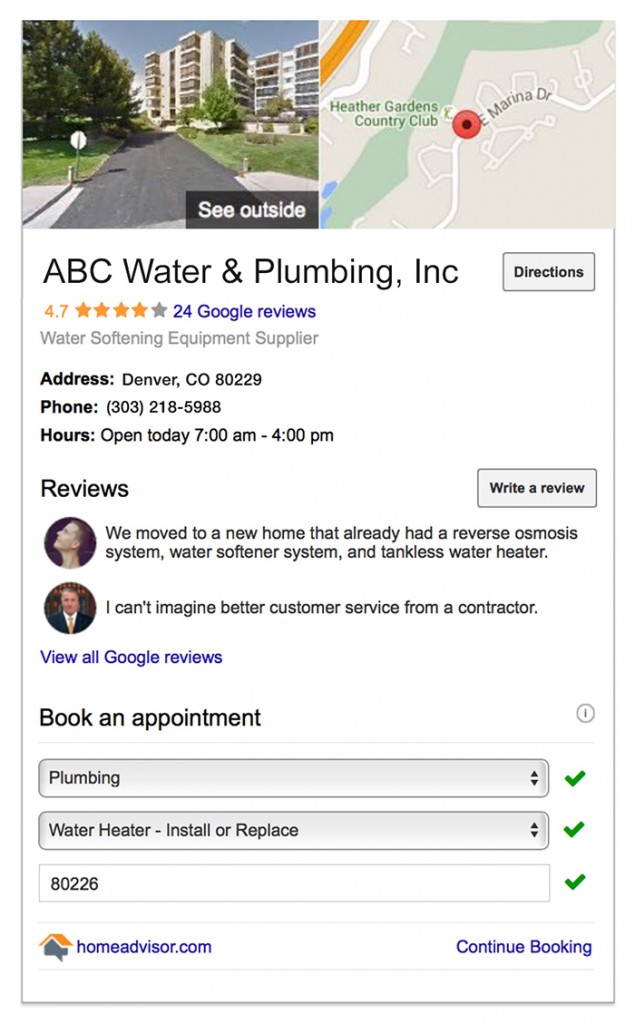 This comes on the heals of IAC's offer to buy Angies List and merge it with HomeAdvisor.  IAC has taken an offer directly to Angie's List stock holders at a 10% premium over the current price. Together the combined entity would have $700 million in annual revenue.
Interestingly Google has previously invested in home services startup Thumbtack and has continued their own HSA test in the San Francisco market. They seem to be pulling out all of the stops in going toe to toe with Amazon.