Understanding Google My Business & Local Search
Google My Business App Receives Major Facelift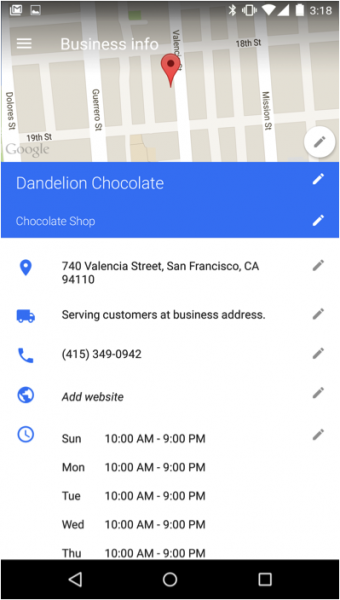 Google is releasing a new app today on Android and shortly on iOS that upgrades the mobile Google My Business experience.
The goal of the upgrade was to make the interface and visuals more similar to Google search and provide better feedback as to error states.
New features:
Improved Editor
Easier to find your listing on Maps and search
More Detailed pending and error states
Listings that are Permanently Closed are now visible via the App
Improved Hour entry and better support for 24 hour business days
Creating a service area display is more intuitive and the Service area display now matches Maps
Help is more visible
The upgrade is elegant and from the demo I saw, it seems to work well. It makes the app fully functional and on par or better than the desktop interface.
That all being said, it hardly seems enough to recharge Google's local efforts and attract more SMBs to its platform
Given Google's recent reduced visibility of local results, the ever present complexity of doing well in search, the rise of Facebook as a small business resource and the demise of Plus as an SMB communication platform, this upgrade, while welcome, seems to be bit of chair shuffling on the deck of the Titanic.
While this tool is likely to be easy to use by the SMB it does nothing to highlight the benefits of Google local search and make it clear to the business owner how a business will really benefit from participating in the project and what they need to do to succeed. And it fails, as the Google GMB has done right along, to provide a reason for ongoing engagement with the product. Outside of answering and monitoring reviews Google has yet to come up with a compelling reason to visit the GMB app or dashboard on a regular basis.
See the screen shots from the new product: