Understanding Google My Business & Local Search
Google My Business Locations (Bulk) Gets Interface Update
Michael Wallace (@LocalGladiator) of Ethology has alerted me to a new, shiny interface for the Google My Business Locations (i.e. bulk) dashboard.
Announced in the Help Files with the interface conventions detailed here, the interface appears to improve what has been a product frequented with bugs and inconsistencies. Google has now posted in the forum as well where they note that time to live has improved. .
The new interface provides meaningful error states and the options to fix the errors as well as the ability to sort locations by Status, Store Code or location Name. There is also a "to-Do" list option that quickly shows you listings that require updates. Hopefully the many idiopathic error messages that had no resolution have been banished as well.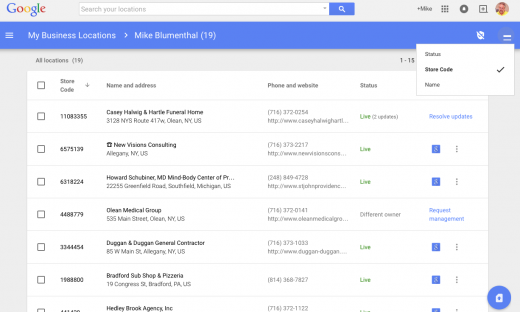 There is a pull out window that allows multiple ways of filtering the listings by different state so that you can view & hopefully repair listings that are in various states of well being or disrepair: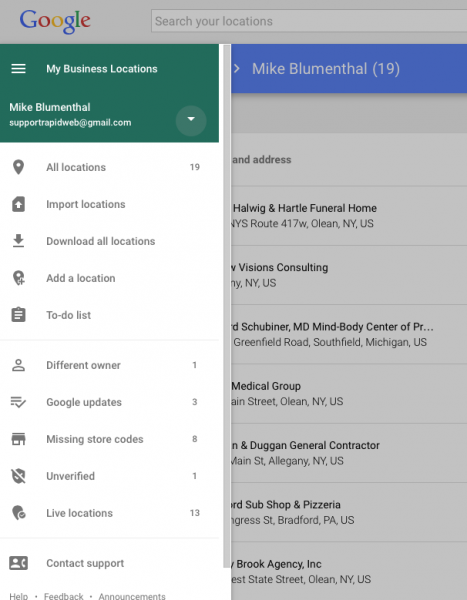 Formatting errors
Duplicate store codes
Duplicate locations
Duplicate addresses
Disabled
Different owner
Google updates
Missing store codes
Pending review
Unverified locations
Live locations
Unfortunately analytics & review management are still on a per location basis with no opportunity to view them collectively and there is no option to add photos to the Plus Page without the owner/manager returning to each location's page level editor in Plus. All three gaping productivity sinks that will some day be fixed. It is also unclear whether Google has fixed the annoying 200 character limit on description although since this is mostly a cosmetic upgrade it seems unlikely. Oh and there is still no phone support.
The interface is a definite improvement for bulk users. But there is still a long way to go.
Updated AM, May 13 with minor details.