Understanding Google My Business & Local Search
Google My Business Upgrades Business Photos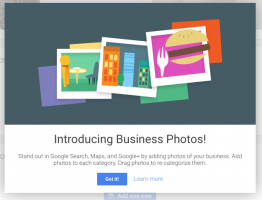 Google has just announced a major update to Google My Business that finally rationalizes photos and their use across all of the places where your listing is shown.
From the post: Starting today, you can tell us which image you'd like to appear when customers search for your business on Google. Just log in to Google My Business on the web or in the Android or iOS apps, and visit the Photos section. While you're there, you can also give your business a fresh look online by updating your profile, logo and cover photos.
Historically it was difficult from an interface point of view to add a cover photo and control which photos Google showed as it was split across three interfaces. With this upgrade all photos can be added from a simplified single user interface.
Best practices from the Google Help Files:
Your photos will look best on Google if they meet the following standards:
Format: JPG, PNG, TIFF, BMP
Size: Between 10KB and 5MB
Minimum resolution: 250px on the longest side for profile & logo photos; 720px on the longest side for other business photos
Aspect ratio: The longer dimension of the photo should be no more than four times the shorter dimension. Landscape photos look better than portrait photos on Google products. Panoramic photos may use different aspect ratios.
Quality: The photo should be in focus, well-lit, have no photoshop alterations, and no excessive use of filters. The image should represent reality.
Here are screen shots of the upgrade: