Understanding Google My Business & Local Search
Google Enters Domain Reselling for SMBs
Google announced today that they are entering the domain registration space with a limited test of the product.  Here is the full announcement from the Google + Your Business page: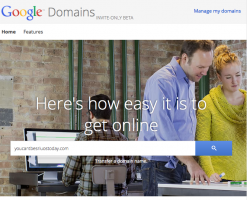 It's 2014 and it seems obvious, but across laptops, tablets and mobile devices, a website is one of the first places people go to find information about a business. But amazingly, our research shows that 55% of small businesses still don't have one. 

So as we explore ways to help small businesses succeed online (through tools like Google My Business [http://goo.gl/Ajvbn5] ), we thought it made sense to look more closely at the starting point of every business's online presence – a website. And that starts with a domain name.

We're beginning to invite a small number of people to kick the tires on Google Domains [http://goo.gl/pHvjoO], a domain registration service we're in the process of building. Businesses will be able to search, find, purchase and transfer the best domain for their business – whether it's .com, .biz, .org, or any of the wide range of new domains that are being released to the Web. 
 
Google Domains isn't fully-featured yet, but we're giving a small group of people the ability to buy and transfer domains through it and send feedback on their experience. (You currently need an invitation code to do so, sorry!) We want input on all the ways we can help make finding, buying, transferring and managing a domain a simple and transparent experience. We also want to make sure our customer support and infrastructure works flawlessly, and that we have the right additional services (like mobile website creation tools and hosting services from a range of providers, as well as domain management support). We're working with some of the top website building providers like +Shopify, +Squarespace, +Weebly, and +Wix.com  to help make that happen.

While we're still building out all of the features, our goal is to make Google Domains more widely available soon. You can check out the first cut of what we're working on at www.google.com/domains.
According to MarketingLand the domains will sell for $12 and will cover the .com, .net, .org and .biz TLDs. Obviously this day has been long in coming and long anticipated. With the recent rollout of My Business, Google has a platform to sell from. For this stage of the product Google notes that they will be working with easy to use 3rd party web development platforms.
When viewed in light of  their recent purchase and shut down of restaurant web site creator Appetas, it is easy to envision a fully Google controlled, self provisioned web presence for the small business world. Appetas sold a very elegant web creation tool that  included 'not just reservations and delivery systems, but social media integrations and mobile websites".
Both domain reselling and web builders are horizontal markets that do well with scale and both would create a great SMB funnel for Adwords as well a be potentially be profitable in an of themselves.  And all can easily be integrated into the new My Business portal. 
This though, could also be a data play. Google needs to know who is building a new businesses earlier in the cycle. With this service they will also reach beyond their existing SMB clientele that have already started marketing by claiming in the My Business portal and establish a relationship with these businesses early on.