Understanding Google My Business & Local Search
Google My Business – A Brand, A Portal, A Platform – Places Makes it to the Promised Land
Today, Google is rolling out Google My Business – a significant small business upgrade to Google Places and Plus. After multiple years of struggle in upgrading Places and merging local into Plus, Google is finally nearing the point where they have a solid platform addressing the needs of small businesses.
My Business is currently rolling out world wide to 236 countries in 65 languages. According to Google, this is their biggest merchant facing launch ever. The product will be simultaneously fully functional on the desktop, Android and iOS once the rollout is completed over the next few days. The Android app should be in the Android store and the iOS app will be available once it is approved by iTunes. From Google's point of view, the rollout reflects a huge investment in the SMB space and a strong foundation for coming developments.
A single business facing brand that consolidates social and places messaging.
An updated interface for editing all Plus Page types.
Full intergration of Places and Plus.
A unified Portal with access to other Google business tools for the SMB.
A platform for future development.
What it isn't
It isn't an upgrade that most very large location based companies will be able to take advantage of.  The Bulk dashboard is just starting the transition and bulk users have the pain of the change over to the new backend still ahead of them.
This upgrade does not focus on, in fact it may even minimize, the more social, recreational uses of Plus.
Brand – MyBusiness to the rescue
Google's branding of their SMB facing products has been in crisis since the rollout of Plus. The consumer side Places brand fell by the way side, there was no name given to the local products in the interim and that loss of a branded entity and conflation with Plus left businesses confused. Google had no way to communicate where and what a business should be doing on Google. MyBusiness solves the communication dilemma.
Plus and Places arrive in the Promised land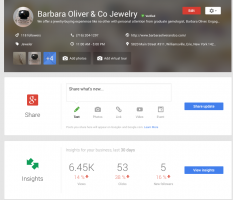 The new My Business interface offers up a single, modern, easy to use interface that provides clearer guidance on how to fill out and verify a listing.
The branding mishegas with the transition away from Places was confounded by the complexities of the back end transition from Places to Plus. Google roled out a new, updated Places in April of 2013 dashboard to sit side by side with the Plus dashboard. Businesses that had claimed their listings in the old dashboard were left with a partially functioning product as Google slowly transitioned them to the new dashboard.
To confuse the issue even more a business could verify their business in Plus as well as Places. Even with the rollout in spring 2013 of the obviously interim Places dashboard, businesses were left confused by the choices, options and rules. Once listings had been moved into the new dashboard many businesses found that they had both a Plus Brand page and a Plus local page causing further confusion.
The new unified sign up process and verification process makes it clear (at least to storefront and service area businesses) which page they should choose
A unified Portal – one place where you can get most things done


The new location dashboard becomes a single place to see not just Plus and Places information but to start interacting with other of Google's business products like analytics and business view.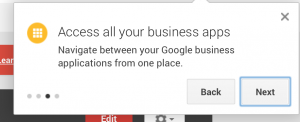 Google claimed goal for the portal is "assist, suggest and inform" to help businesses both complete the verification process AND to easily dig further into other Google products.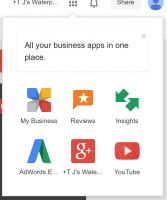 According to Google most users of Places and Plus local pages has been the single location business. For that target this interface succeeds very well. There are drop down menus to make most parts of the dashboard immediately available. There are cards to suggest features like analytics and Adwords express if the business doesn't have them and summary cards of both if they do.
What it isn't –
In being very small business focused in seems to reposition Plus as a small business platform, at least for the time being. Both large location businesses and casual users seem to have been ignored.
This focus is primarily on the single location business. In doing so anyone that has to manage multiple pages and or locations is still confronted with the slow and tedious card selection metaphor to pick the correct page and get into the location or page dashboard. This interface, works ok with 2 or 3 pages but once you exceed the visible on screen area it becomes tedious very, very quickly. While a single user can manage 100 businesses via this interface, they may commit suicide in doing so.
Bulk upload is still is a work in progress and this upgrade doesn't affect the shortcomings in that interface or process.
Brands still have no way to have a single stream across multiple locations nor to easily manage the social presence of multiple pages. Long a promised feature (link) this is a glaring hole in Google's Plus strategy.
Clearly Google has been working on the (painful?) transition from the old bulk dashboard to the new, more and more of late. Hopefully this portends a future where all of the above failings are addressed.
The recreational and entertainment uses of Plus seem to have been pushed aside in the rebranding if not in a technical sense then at least in a communication sense. Plus users that goto put their local soccer club on Plus may very well be confused by the language as they now fall into the "Brand" page category. Whether this reflects a long term pivot or a short term oversite is unknown.
A platform for future development
For the past 2 years, Google local has been in various stages of being a mess. The complexities of moving millions of businesses to a new platform all the while rebuilding the underlying architecture and inputs have been immense. With this rollout, Google is effectively declaring that the transition is over and they are ready to start delivering SMB solutions on a regular basis.