Understanding Google My Business & Local Search
What does My Business Tell Us About the Future of Google Plus?
The recent rollout of Google My Business provides an interesting view port into the future of Plus. It is the first public major rollout in Local since Larry Page took the helm and since the introduction of Google Plus three years ago.  We can see in this product the widespread use of Plus features but nowhere is Plus even mentioned.
Several months ago rumors were rampant that Google Plus was going the way of the dodo, soon to join a raft of recently abandoned Google products .
However in My Business we see it tightly integrated into the portal. But not as a stand alone product or brand. Interestingly, while Google Plus is integral to the product AND it broadly utilizes Plus, there is NO mention of Google Plus anywhere in My Business.
In this rollout Plus is being positioned as a feature or a service not a product. It is being positioned as part and parcel of Google's Local offering not as the offering.
Unlike previous product rollouts Google released their mobile app simulataneously with the desktop version. In the mobile app the relationship to Google Plus is particularly obvious or rather not obvious. The user, while using Plus broadly, doesn't directly interact with it at all.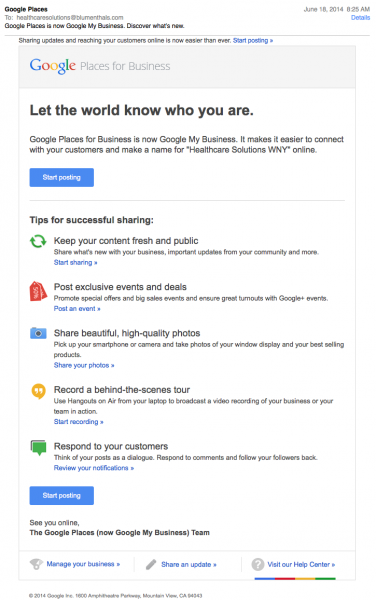 Look at this recent customer communication advising the SMB about the many features and benefits of the  new My Business:
Tips for successful sharing:
Keep your content fresh and public – Share what's new with your business, important updates from your community and more.
Post exclusive events and deals – Promote special offers and big sales events and ensure great turnouts with Google+ events.
Share beautiful, high-quality photos – Pick up your smartphone or camera and take photos of your window display and your best selling products.
Record a behind-the-scenes tour – Use Hangouts on Air from your laptop to broadcast a video recording of your business or your team in action.
 Respond to your customers – Think of your posts as a dialogue. Respond to comments and follow your followers back.
The email is very action oriented. Everything is about sharing, posting and responding and every feature mentioned takes advantage of Plus but the business, whether using the App or the Dashboard, doesn't need to be aware even of Plus's existence to take actions. (Note that the only other brand mentioned is Hangouts On Air, obviously a brand and product that is also being positioned as a stand alone mobile product).
In the past Local was being rammed into Plus. Now Plus, sans the brand, is being integrated as a service into the new local portal as  as a communication tool for SMBs. It is wrapped in the utility of a multifunction portal that increases the value of all the parts and makes them more accessible.
My Business is a product that is tightly focused on serving a large horizontal market segment – small business. It doesn't address the needs of very large business, multi-location businesses, hobbyists or specific verticals. So one assumes that there are more rollouts that will address these markets.
Time will tell but I think it likely that when Google does address those markets the product and brands will tightly integrate Google Plus as a service. It won't be dead, it will just be repackaged as a range of services when and if relevant to the market, the brand and most importantly, the app.
It is the App world that Google is facing its largest existential battle and where I think you will see Plus being repurposed as a service across a broad range of targeted apps and mobile brands.
Plus apparently is not going away but it is morphing.