Understanding Google My Business & Local Search
Google Becoming Slightly More Transparent About Nuking Reviews
Update 9/28: I had myself taken off as a manager of Barbara's page and my review instantly lost the notice and showed back up on the listing.
Historically at Google Local, if a review triggered the spam filter, the reviewer would still see the review associated with the business if they were logged in and other users would not. The reviewer would have no clue as to why the review wasn't showing.
This "technique" for handling "spammy" reviews led to many, many posts in the forums inquiring about why a given review wasn't showing. Google has now implemented at least a modicum of communication in this regard and is tagging flagged reviews with an alert.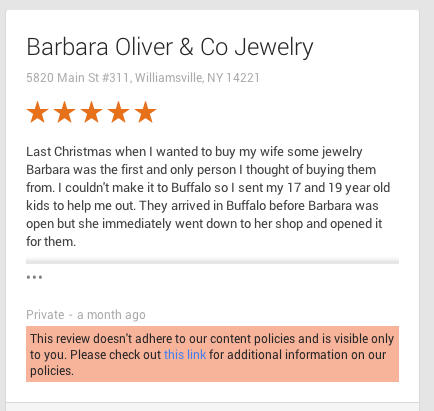 Is this enough communication and enough transparency? I would suggest that while it is better than before it still misses the mark.
1) Google has chosen to make the announcement in a users review section which I assume is infrequently visited
2)The complaints are still coming into the forum with regularity
3)The explanation given provides little in the way of helping the user understand what is going on if they do happen to see the notice.
My review of Barbara Oliver & Co. Jewelry was flagged because I am a manager of her G+ Page. Perhaps a legitimate reason to not show the review but if I were to read the help file that would not be at all clear.
Filtering reviews is a difficult dance between users and a complicated algo that is at best imperfect at identifying spam. Google has always erred on the side of opacity to prevent spammers from learning too much about their techniques.
The problem with that approach is that spammers figure it out anyways and regular users and businesses are inevitably punished. This occurs without any understanding of how or why on their part. Yelp, while imperfect in many things, handles their spam classification in a much more transparent way that while not ideal at least does a better job of communicating to the reviewer that their review will not be displayed. I believe that Google could learn from that example and with some careful thought do even better at solving this problem.