Understanding Google My Business & Local Search
NY Times: Closed, Says Google, but Shops' Signs Say Open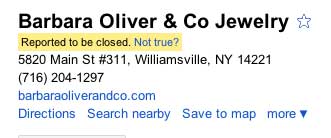 An article on the recent spate of black hat closing flags that have been appearing on Places listings was published in the NY Times today by reporter David Segal. He is the same reporter that broke the JC Penny's link buying story.
The good news is that Google has promised a fix for the problem shortly:
A Google spokesman, Gabriel Stricker, declined to comment on whether the company kept a running tally of fraudulent closings. But he said Google was aware of the issue and was already working on changes, which will be adopted in coming days, to prevent what he called "malicious or incorrect labeling."
Kudos to Google for acknowledging the need for acting quickly to put a stop to this pernicious activity.
The other good news is that both Linda Buquet and I were quoted/linked in the article. 🙂
Other articles of interest on the topic:
News Flash: Google Mt View Reported Closed!
Places Blackhat Playground – Reported To Be Closed
Clarification re: Clarification re: closed listings on Google Places
Hit by Competitor Spam Reviews: The Plot Thickens
Update: Thanks to Jim Rudnick, a Hamilton, ON SEO, for the heads up that Google has responded publicly to the NY Times article on the Lat-Long Blog.