Understanding Google My Business & Local Search
Yelp: When the Hard Sell Goes South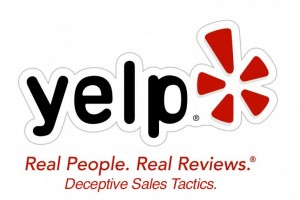 Greg Sterling wrote last week about the on-going resentment that SMBs display towards Yelp. It seems to me that the intrinsic contradiction of selling low value, high priced ads against reviews that many businesses dislike, creates an inevitable conflict and distrust. But when you add high pressure, hard sell techniques to the mix it becomes a scenario for explosive disaster.
This comment appeared on my Yelp: Real People. Real Reviews. Deceptive Sales Tactics post last Friday. And while I can not independently verify the facts, it has a ring of truth about what happens when you sell aggressively to SMBs that don't really understand what they are buying.
Just what is Yelp thinking? Is this a cancer that will poison Yelp for ever in the space?
****
Glad to have found this blog. I was contacted by a very smooth talking charming Yelp salesman this summer and he was everything you described but much much more.
This guy was good, I got to hand it to him. He got me. He pretended we were friends and sold me. And I'm not an easy person to sell to either. After calling me day and night for about a week, I finally started to believe that what he knew was best and my opinion didn't matter anymore. So I signed up for a year at $425 a month to be effective Sept 1, 2013. I signed up beginning of August.
2 days after I signed his contract I realized I had made a horrible mistake, so I contacted him to cancel.
I argued with him that Sept 1st start date didn't happen yet, so why couldnt I cancel? He said "your already in the system". I didn't want the $850 cancelation charge so I agreed to leaving it on.
The next two weeks I beat myself up. I was devistated. Even my kids noticed my mood change. I couldnt' believe what I signed for. and I'm just AN ARTIST, I'M A 1 WOMAN ARTIST that works occasionally, but I don't even consider my art – a business. It's just something that I do FOR FUN, that pays, when I have TIME.
Anyway, after the 2 week emotional breakdown (I actually signed up for therapy session because of it). I get contacted by another woman from Yelp. Her job was to make sure my yelp page "looked good". I avoided her at all costs! I didn't reply to her messages, hung up on her calls and didnt' return anything. I was in YELP TRAUMA!!!!!!!!!!!!!!!!!
She was upset with me as to why I was avoiding her (after all, she wasnt trying to sell me anything, I was already "in the system". So finally I decided to reply to an email and I said "YES OR NO… CAN I STILL CANCEL?".
She replied "I'm so sorry you feel this way and your campain has not even started yet, I really need to speak to you about this, but to answer your questions, YES, you can".
Immediatly I called her and told her my whole story. Almost broke down to her. She sounded like she was not at all suprised. She cancelled me.
Although I don't have the cancellation papers yet like she promised she would email me, I have in writting saying she would, so I'm cool with that. I know I can put a stop payment with that alone.
Just so you know, since then, my "free ad" is no place to be found on YELP. Technically it's still there, because I can link to it. But its not coming up at all on any searches like it was BEFORE THE PHONE CALL FROM HIM.
wow. that's all I can say. No worries, I will open a new yelp page and he wont know it's me. that's all….