Understanding Google My Business & Local Search
Yelp: Real People. Real Reviews. Deceptive Sales Tactics.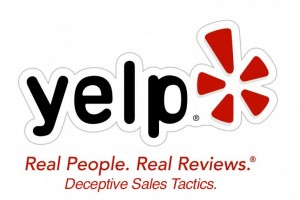 In my talks, I have often said that Google is the print Yellow Pages for the new millennium. But as Rocky Argawal has pointed out that title really falls to Yelp. He has noted that Yelp, in charging some local advertisers $600 per 1,000 impressions,  "despite ostensibly being an Internet company, [their] business model is closer to that of yellow pages companies: sell a questionable value proposition to many who don't understand what they're buying. 
It is not just their pricing model that mirrors the old yellow page companies but their selling techniques as well. I was recently pitched by them on behalf of a client. The sales person I dealt with, like the well trained ATT Yellow Page salesman of yore, was well spoken, persistent, organized and supremely confident in the product. The sales person would set up an appointment, call to me remind about the appointment, call to double check I would make the appointment and then remind me that I had missed it. It was if he was channeling my yellow page salesman of 30 years ago.
The pitch was persuasive and well organized trending strongly towards the hard sell and not the least bit consultative. The sales rep provided a list of 5 links referenced during the phone call that built the case from the top down that Yelp is the leading online directory, that they uniquely understand the internet and that you as a business person can only ignore them at your own peril. Hey if Steve Jobs says they are important who are you to disagree? You are asked to affirm these points along the way as they make the final point that their advertising makes sense. If you agreed to all that went before you can't very well disagree on that one, final eensy weensy point.
The problem? Like the Yellow Pages, Yelp uses FUD (fear, uncertainty & doubt) and more than a little slight of hand to make their point.
When asked about ROI they respond that since your average selling price is $x then it will only take one sale to make this pay (yea right).
When asked about conversion tracking and analytics you are are told how good their dashboard showing impressions is.
When they are going for the close they point out that by taking out an ad you guarantee that your competitor's ad will not show up on your listing. What SMB can refuse charging that red flag?
When asked if they had an offering that required less than a 12 month, the rep noted that yes but the best returns occur in month ten (hmm I wonder why that is?).
But the biggest slight of hand is their use of Google Trends to "prove" that they are the leading online business directory
This last bullet actually moved the pitch from slight of hand directly into the art of deception. And it was the foundational first point for the whole sales pitch. To demonstrate Yelp's prominence they compared the searches on the term Yelp in the Buffalo market to searches for a number of online business directories. Here is the chart from Google Trends that "proves" Yelp  is the leading local opportunity for SMBs: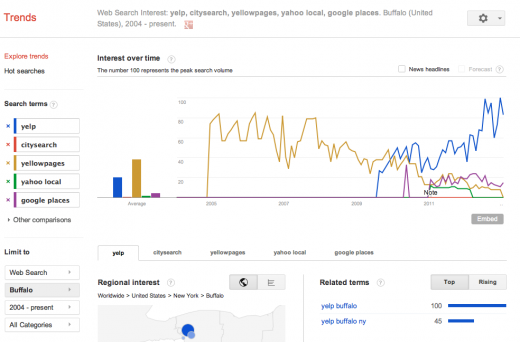 When I asked again because I wasn't sure that I had heard the sales person correctly the rep said: "This [Google] trends chart is a measure of the popularity of directories, which directory is used the most. It shows that Yelp is the most popular online directory."
Claiming that the number of searches on Google for "Yelp Local" is a reasonable metric to assess importance of Yelp is, as Rocky pointed out, obviously preying on the uninformed. And who, pray tell, would be searching for "Google Places" on Google? Using Google Trends to graphically portray absolute traffic and market dominance is the ultimate in misleading sales tactics as it demonstrates nothing of the kind. I doubt that one in a thousand SMBs would catch Yelp at their effort to close at any cost.
The question of whether their pricing model ultimately succeeds is up in the air but I can say that these tactics, like their use in the era of the Yellow Pages, will come back to haunt them.
Here are the reference links that the provided for their sales call: