Understanding Google My Business & Local Search
Google's Local Carousel – Trapped in Google's World?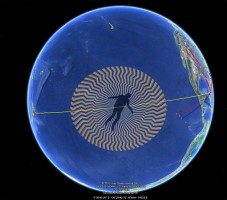 The new Local Carousel is certainly going to change user behaviors. Exactly how is still to be determined. To some extent whether ads do better or organic does better depends on what users see in any given "industry + geo" search. It also depends on how they respond to the (thinly?) populated knowledge panels or whether they move on to a well branded and respected site like Yelp or Tripadvisor to get their answer. I think though after analyzing these displays the answer as to what is really going on is somewhat more obtuse and well… self serving.
One thing is for sure, the geography above the fold is radically changed. Besides the Local Carousel, over the past year Google has been making a number of changes to the main search page that include the additional menus (2x), the bright red sign in button and the grey bar. I think we need to assess the Local Carousel in view of all of the changes on the main search page. I wanted to look at a "typical" desktop screen and understand exactly what was visible to searchers above the fold in this new context.
To analyze these searches I took screen shots of a full screen on a 1440 x 900 pixel display. I removed as much extraneous material from my screen as possible to give Google the benefit of the doubt in this analysis. I removed the dock, used Google Chrome, turned off any additional features that would take up screen real estate and entered full screen mode. Somewhere on the order of ~54% of desktop users see this much or less vertical and horizontal space when they view Google local carousel result.
In addition to the Local Carousel for Hotels NYC I looked at displays for Restaurants NYC and Pool Halls NYC in an effort to get a range of ads, organic content and different Google insertions. I then counted how many visible links there were and where they pointed. I highlighted the areas that corresponded to each link type.
Hotels NYC (click to view larger):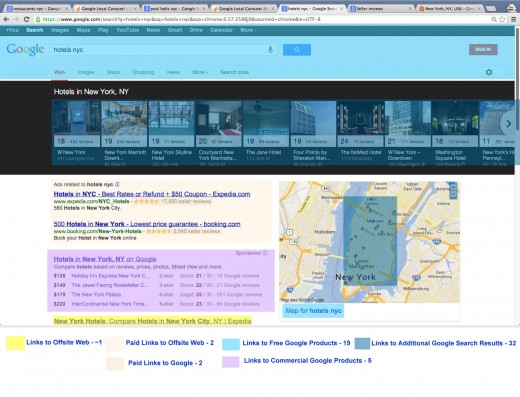 For the purposes of analysis I grouped the links as follows and noted the results at the bottom of each screen grab. For the hotels here are the numbers listed out:
Paid Links Pointing Offsite – 7
Paid Links Pointing Onsite to other Google products – 2
Links to Additional Google Search Results (this includes Carousel images and pins on the Map) – 30
Links to Other Free Google Products Incl Menus & Maps – 19
Links to Other Sponsored Google Products – 5
Links to Offsite (off Google) Websites – 1
The hotel industry is slightly unique given Google's Hotel Finder product but searches in other areas show similar results that only varied slightly in terms of links pointing offsite.
Restaurants NYC (click to view larger):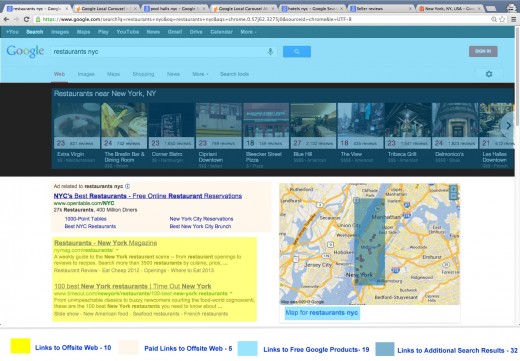 Pool Halls NYC (click to view larger):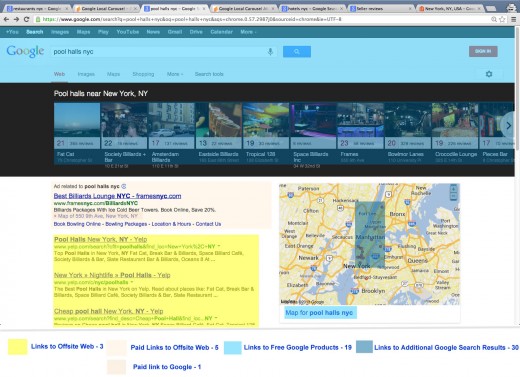 Certainly there are winners and losers amongst the businesses that are shown (or not) in the new results. The knowledge graph data about any given business is very thin and to get to that, as Linda Buquet and Greg Gifford have pointed out, requires at least one more click to get to basic information. Perhaps that might be offset by the increase of businesses now visible in the carousel, the horizontal orientation leading to less "fall off", a potential increase in "forced" branded searches upon the click of an image and the fact that the Carousel is much higher on the page than the 7-Pack. Time will tell. On some searches high ranking name brand sites like Yelp and Tripadvisor seem to have gained an advantage and on others fewer adwords seem to display.
But when you compare these screen shots to David Mihm's analysis of a similar search result from last year at this time the biggest change is not that there is more monetization of clicks but that many of the clicks opportunities now take the user back to Google search results or Google properties rather than offsite. This is true of both paid and non paid results.
This chart summarizes all links above the fold and where they point. To me this is the story of the Local Carousel:
| | | |
| --- | --- | --- |
| Search | Total Paid & Free Links Pointing Offsite | Total Paid & Free Links Pointing to a Google Property |
| Hotels | 8 | 64 |
| Restaurants | 11 | 60 |
| Pool Halls | 8 | 56 |
It is arguable whether the searcher and the businesses benefit from this arrangement. It is not arguable whether Google does. As David noted last year "it really is a Google World and we are all just living in it". This year Google seems to have doubled down on its own reality so it has, perhaps, become even more so. And the searcher might never be able to escape.