Understanding Google My Business & Local Search
New Google Places for Business Dashboard Upgraded to Handle 100 Entries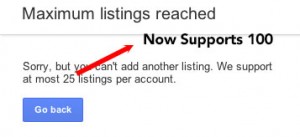 Last Thursday at the Advanced Local U, Dan Pritchett, the engineer heading up the Places for Business Dashboard effort and Joel Headley, joined us for the day long discussions.
During the day, the arbitrary limits to the maximum number of listings (25) in the dashboard were discussed and bemoaned by the folks at the seminar. For service area businesses with more than 25 locations, it meant there would thus be a need for multiple dashboards. Not a great solution. Dan heard and he acted.
I have just been informed that based on the feedback received Dan lifted the 25 listing limit to 100 in the new Places interface. Kudos to Google for listening and responding!