Understanding Google My Business & Local Search
New Places for Business Dashboard Has 25 Listing Limit
As the new Google Places for Business Dashboard is being adopted more widely, we are starting to gain insights into its strengths and limits. One of its great strengths (besides a much enhanced interface) is the speed at which data typically makes it to the public listing making the use of MapMaker no longer as critical in the listing management process.
Apparently though there currently is a somewhat surprising hard limit that imposes a maximum of 25 listings in the new dashboard. The Google Help documentation notes a limit of 100 but that obviously applies to the old Dashboard and not the new one.
Brian Rutledge of Get Page One, LLC received this message while managing a large SAB with a number of locations.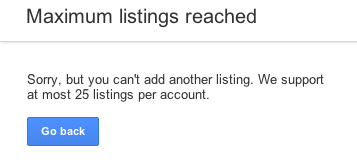 Google introduced the new Places for Business dashboard on April 2nd. Initially the product was only available to newly claimed listing. Google started the process of converting existing dashboard users to the new dashboard late last month, beggining with the simplest dashboard use cases first. Those with lots of listings, AdWords Express ads in play or listings claimed into multiple accounts have not yet started the conversion process.
This new found limit at a fairly low number effectively forces more businesses into the bulk upload process which, while a good solution for many, does not offer the speedy data updates of the dashboard, easy access to the simplified marketing products or any obvious path to a social presence.
Hopefully a more graceful integration of the two disparate products can be achieved. It would be ideal if the dashboard could handle more listings or perhaps there was a migration path from the single listing dashboard to the bulk upload process for growing businesses.
While the Dashboard has never been intended for managing a great number of business listings or as an agency level product it is unfortunate that businesses. particularly in the 25-50 location range have so few good choices currently for listing management if they want a partial social presence or limited use of Google's marketing products. They could migrate over to the G+ management interface but that appears to me to be a much less efficient listing management environment than either the dashboard or the bulk upload.
Regardless there is nothing more frustrating than a forced do over when an agency or SMB runs up against an undocumented limit of a product and has no elegant way to make the switch.
Update: Apparently Google will NOT approve these listings under the bulk upload program and the business is forced into using multiple dashboards. Although why that is, is unclear:
Hello there,
Please note that these service area businesses are not going to be verified under bulk verification. You can use PIN verification process to have your listings verified. Thanks.
For PIN Verification process:
Best,
Google Places Team
From Help Files via Linda Buquet:
Ineligible Business Models:
Businesses that operate in a service area—plumbers, for example—may bulk verify only if their locations are also customer-facing during regular hours. These businesses will not be able to set service areas in the bulk management tool. Service area businesses without customer-facing locations should use the PIN verification system to verify their locations individually. Learn how to add service areas to your listing.