Understanding Google My Business & Local Search
New Google For Business Dashboard Now Available For All New Users Nationwide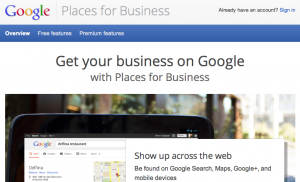 Google has just notified me that the new Google For Business Dashboard is now available to ALL NEW dashboard users in the United States. Although I am not yet seeing it on the accounts that I manage. I missed the new dashboard users part and mistakenly thought it was all users. Mia Culpa… its late here. Sorry.
Last week when the product was rolled out Google announced that it would be phased rollout and said "Please know that the update will be gradually rolling out to existing Google Places for Business users like you in the coming weeks".
Along with the new Dashboard, Google is changing their marketing message as well. In doing so they are making a clear distinction between free and paid premium services.
Given how fast this has moved, I would assume that the rest of the world is not far behind. I would also assume that there are more features coming sooner rather than later. It can't come soon enough for me.
Other posts about the new Dashboard:
Google rolling out new update to Google Places for Business – Me
Visual Guide to the new Places for Business Dashboard – Me
Categories in the new Places for Business Dashboard – Me
Analysis: Google Places for Business or G+ Pages Lite? – Me
More details about the improved look and feel of Google Places for Business 
– Joel Headley
BREAKING! Brand New Google Places Dashboard – All-in-one Local Listing Management – Linda Buquet, Catalyst Marketing
10 Things SEOs & SMBs Should Know About New Google Places Dashboard – SearchEngineland
Google Upgrades Its Google Places Dashboard With Google+ Local Integration – SearchEngineland