Understanding Google My Business & Local Search
Consumer Survey – Where do Consumers find Specialty Lawyers? Not on Facebook
Moses & Rooth Attorneys at Law commissioned me to help them understand how consumers find specialty lawyers. Their goal was to appropriately allocate their marketing dollars in a realistic way between the many choices. Do consumers go to Facebook? How important was their website? What role do reviews play?
To that end, we created a Google Survey as to how consumers might find a specialty lawyer and what things would they look for while online in their search.
We surveyed 1500 consumers with 3 questions as to how they go about the process of choosing a lawyer. Moses & Rooth's conclusions about the consumer lawyer survey can be viewed here. And the Google data, in its entirety, as to how consumers find lawyers is available here. I would encourage you to view the Google data and create some faceted views of the data to understand the differences in responses due to age, urban density, geography & income.
The weighted sample size included ~1200 respondents and the results were judged to be accurate within ~+3/-3 survey points.  The Google Survey produces "a close approximation to a random sample of the US Internet population and results that are as accurate as probability based panels".
The three questions asked moved from the general to the more specific:
When you need to find a specialty lawyer how would you start your search?
If you search for a specialty lawyer on the internet what is most important to you?
If you searched for a specialty lawyer on Google, what would do you first?
The results of the survey are telling. Here are some top level take aways:
Word of mouth from clients is critically important
Search engines are the most likely source for new clients
Facebook offers little value in finding new clients
The print Yellow Pages, while not as likely to be used as the search engines, still have some life in the legal industry. This is particularly true in the MidWest and amongst older clients
Google reviews are 3x more likely to influence a decision than Yelp (question 2)
A website and online reviews play a critical role once the consumer makes it to Google (question 3).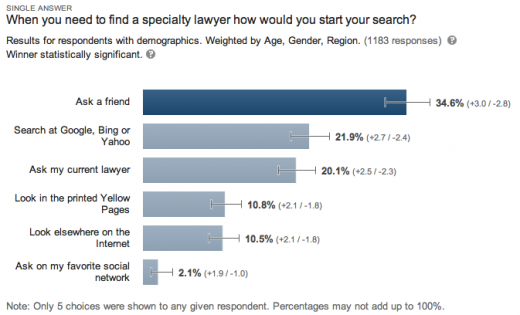 In a broad sense I think we will find similar responses across a number of industries. It is likely that for many local industry types that the print YP impact might be less important but that the overall results will likely generally hold true. Here's hoping I get the chance to survey additional industries.
To view the complete the survey data  go here. The data is structured so that you can view the results by age group, income and population density. There are some interesting differences that warrant explorations.
If I were a lawyer and saw these results I would:
Make sure that I am gathering my client's emails and staying in touch
Invest in local search and possibly Adwords
Go out a buy some great bourbon for those lawyers that consistently refer me business
If I chose to invest in any other marketing, be sure to put in place measurement tools to evaluate and periodically review the investments.
The sample size was not large enough to draw many firm conclusions as you move deeper into the demographics but here are some that were statistically significant.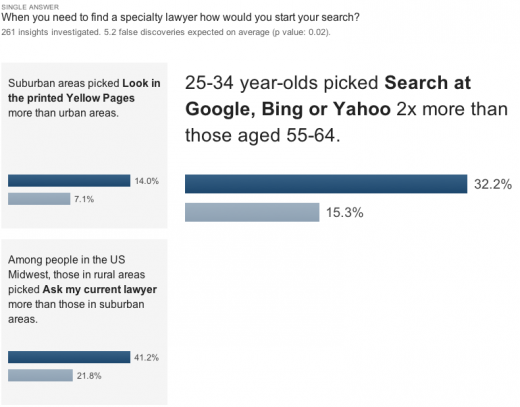 When the results are viewed through the lens of age the results, while not surprising, do confirm the that those over 55 are more likely to use the Yellow Pages and more likely to ask their current lawyer. Those in the under 35 brackets were more likely to search the internet.