Understanding Google My Business & Local Search
New Google Places Review Bug- Will Google Ever Get Their Review Shit Together?
Google Places has experienced a number of annoying bugs and quirks in their review system over the past number of months from lost reviews, to 501 Errors and on to the inability of owners to respond to reviews. Well, now there is a new bug that started showing up in the past few days: registered Google Users without a public nickname are prevented from leaving reviews at all as the publish button stays grayed out and no opportunity is provided for them to add a public name.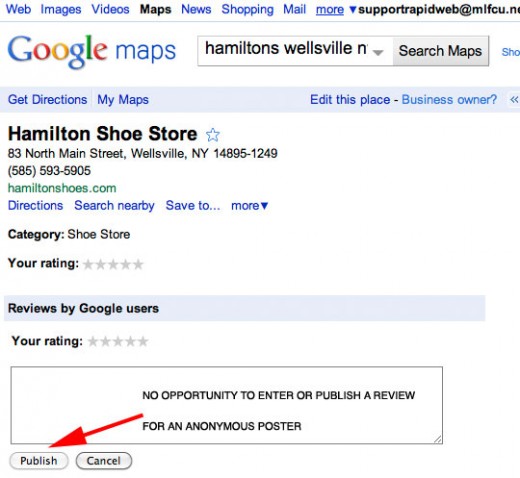 Maybe, just maybe it is darkest before the dawn and this "bug" is really a fix in progress. I did notice that the links to anonymous "Google User" reviews has gone missing once again.
And although I have said this before, I will say it again: It is well on time for Google to get their proverbial "review shit" together. Google has played a critical role in making reviews a central part of the local ecosystem and yet for way too long they have put forth a buggy forward facing review product that leads to unpredictable outcomes and frustration for both the user and the businesses that receive them.
Google should be "doubling down" on their review commitment. It is a huge flash point for business owners and it seems hard to understand having such a buggy product in place just as the concept of business reviews is spreading broadly amongst every day users.
Here is a screenshot for a user with a public profile that is leaving a review for comparison: