Understanding Google My Business & Local Search
Google Places: Selective Reviews Now Being Removed
Update: Google Confirms New Review Removal Practices
Google appears to be actively removing some reviews from Places listings.
Some of the recent problems of reviews being lost are clearly algo based and reports of lost reviews continue to pile up in the forums. But my poking around in Places indicates that there is more intentionality than bug in the behavior (although never underestimate the bugs in Places :)).
Yesterday I noted that Google is favoring reviews that were written by reviewers that have a public presence. Clearly, they are now not displaying the names of "private" reviewers. Have the changes gone deeper than that?
I  wanted to go back and see if any suspicious reviews had been removed. This is harder than it seems as very few people keep track of individual bogus reviews… where and when they saw them, who posted them… those details are usually lost.
However, I did remember that both Miriam Ellis and I had done articles about reviews that seemed suspect; me in Do Positive Only Review Services have a place? and Miriam in her great piece Are These Reviews Authentic? You Be The Judge. Serendipitously both pieces had identifiable screen shots of obviously faked questionable reviews as a basis for a limited test.
Surprise! (or maybe not) In both cases, all of the questionable reviews in the screen shots are no longer showing in Google Places.
Miriam's blog showed reviews from Goodson Honda West's Places Page that were dated between July 23 and August 2:
While Goodson still shows 32 third party reviews and 20 reviews from Google, there is not one review from the timeframe from July 23 to August 2  still visible on the Places Reviews by Google User page.
The screen shot from my article showed reviews for a Cahuenga Pet Hospital from March 16th through March 24th: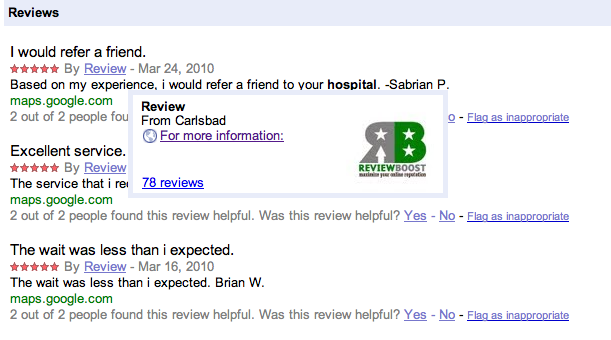 Like in Miriam's case, those reviews have been excised from a Places page that still includes 14 additional reviews.
Clearly, the disruptions that we are seeing in the Google Places Review environment are more than bugs, quirks and algo twitches. While two Places accounts are not a significant sample and may not totally reflect the new reality, these two cases are not accidents.
It appears nearly certain that Google is starting to clamp down on the fire hose of review spam.