Understanding Google My Business & Local Search
Reviews – Do Positive Only Review Services have a place?
Over the past few weeks, I detailed several successful ways to generate reviews. I promised at the time to detail some ways that I think are ultimately bound to failure. Here is one.
ReviewBoost claims to "Authenticate and Publish positive reviews across the Internet, maximizing online reputation for businesses of any size." They claim to "publish reviews on partner sites like Yahoo, Yellow pages, Super pages, City Squares" and to do "review syndication and broadcasting on Google search Network" (whatever that might mean).
At the Google Maps forums, a poster (obviously another marketing company) wonders "Is this a legitimate use of Google Reviews?" and goes on to note:
We were approached by a business that provides review submissions on behalf of clients. I have linked to a sample of their work. They approach businesses and offer to post client reviews on their behalf. They are easy to find and follow since they tag the reviews as posted "By Review". Is this a legitimate service? If not, how can Google address it?
Link to the map or business listing in question if applicable: http://maps.google.com/maps?cid=1868467862308158144&hl=en&gl=us (look at user reviews)
Here are some reviews from the Places Page referenced: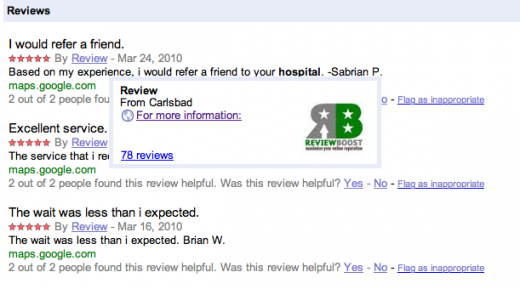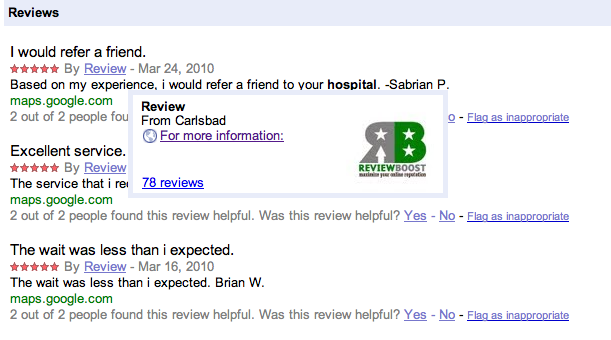 Clearly, the era of outsourced, positive reviews is upon us. Efficient for the business yes, perhaps even an easy sell. It is also clear that these types of services will soon be spoiling the bed in which we all sleep. The footprint is heavy and ultimately, the process is predicated on the deception of both the participating business and the consumers that only good reviews can get through.
How do you think Google will respond? How would you respond in the forum post? How long before reviews become totally untrustworthy and not worth the bits they are written in?