Understanding Google My Business & Local Search
Get a keyword stuffed Google Map listing with a virtual office thrown in for free!
Creative abuses of Google Maps for profit always intrigue me and this "ad" is one that certainly wins an award for chutzpah. PanzerMike, never one to let a potential spamming competitor sneak through & frustrated by Google's spam fighting efforts, sent me this example.


Apparently with the real estate business in a downturn, an enterprising real estate company needs to turn somewhere for new leads.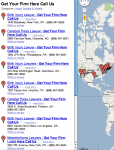 With a little searching, you can find this Map listing in every major market, each located in a building offering virtual office space. One even offered the space up free for 90 days to the recently unemployed.
The phone numbers listed in the Map's listings, ring into Anthony & Co. who according to their website are "one of the largest, oldest and most experienced commercial real estate service companies in North Carolina".
I found these paragraphs from their About Us page rich in irony:
ANTHONY & Co. is recognized by corporate, institutional and individual clients as the "consummate insider," and now with four locations, ANTHONY & Co. has greater reach to serve you in more local markets.
With timeless values and expert professionalism, we build Real Value and Real Community for local investors and companies. We are pioneers in consulting, development, transaction and management services, applying our knowledge with wisdom to achieve Real Results for our clients.
It seems that in this case, you get a virtual office with a keyword stuffed Google Map listing thrown in for free. Or is it a keyword stuffed Map listing with a virtual office thrown in for free? Leave it to the real estate business to redefine timeless values, expert professionalism and wisdom.