Understanding Google My Business & Local Search
Google Maps suffers Brain Fart: "The Cluster" works in mysterious ways
Sometimes Google Maps just has a brain fart. Life will go along and all will be good with your listing. Then, for no apparent reason, it just forgets things. Not insignificant things like the year you opened or the special brand you carry but important things like your listing's URL or its correct location on the earth.
Late last week though, I saw a strange one. On the surface it looked like a record had been hijacked. The reality was both simpler and more complex than that.
You may recall Podesta Baldocchi Florist in San Francisco. They are the poster child for the great family run urban florist. They have been in business since 1871, have a great reputation in San Francisco and have been owned by the same family for many years. They were one of the many unclaimed florist listings that was hijacked in September of 2008 via the community edit feature as part of an affiliate fulfillment scam. They actively use the internet for marketing and have checked their Maps record every day since the hijacking.
On Thursday of last week I received a desperate email from Marc, the owner of Podesta Baldocchi. It read: Help! Our website on the Google 10 pack has been hijacked again. I am trying to understand why and how to get it corrected. Any assistance would be appreciated.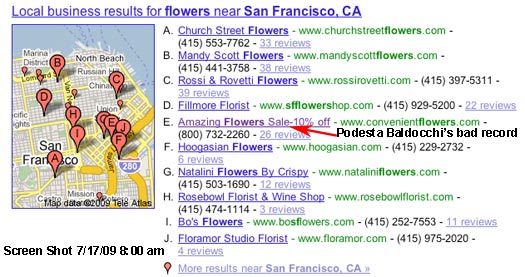 Fortunately it had not been hijacked but his record had reverted to both an unclaimed state and taken on all the attributes of the original hijacking from almost a year ago. Maps seemed to have just forgotten that the record had been claimed into the Local Business Center after the community hijacking and somehow dug up and reinserted all the information from that event 10 months ago. It had been hijacked once and suddenly had become ready for a second round. Do hijackers hijack already hijacked records?
It seemed a simple matter to just reclaim it and bring it back into the LBC. Upon investigation a duplicate record showed up as well in the index and I thought it would make sense for Marc to go through the claiming and duplicate removal process for that record as well.
After 20 emails back and forth and several phone calls it became obvious that it was not your typical unclaimed record….  
Nothing Marc tried would allow him to claim it even though it was obviously open to community edits. Every attempt at claiming it just took him directly to his Local Business Center account with no additional information and no obvious next step. By the next morning he had become very frustrated and I asked for his log in.
As a side note, he did manage to snag the duplicate record but like many an unsuspecting SMB, he unknowingly suspended the record which could have caused his whole cluster and his listing to be lost from the index.
The fix? I went into his LBC, opened the main record for editing and resaved it. The record immediately showed as claimed in Maps and within an hour the Local 10 Pack was back to normal. I hadn't thought of telling Marc to try this as it is something I do relatively often without thinking about it.
The takeaways?
1)Maps is a complicated system that is not always easy to understand particularly in the SMB market for which it was intended
2)It is very difficult to communicate and solve problems via email
3)Feedback to the end user in the LBC is not adequate
4)The interface in Maps & particularly the LBC leads to end user errors. Suspend a dupe? Delete it?
5)Direct access to the record (which only Google has) and familiarity with Maps could have solved this problem in 5 minutes instead of 24 hours.
6)"The Cluster" works in mysterious ways
Google has created a powerful system in Maps and the Local 10 Pack. Now it is time for them to invest the energy and money to finish it, focus on the bugs and the interface design. If these problems are unavoidable artifacts of the complexity then (to beat a really dead horse) then Google needs to step up to the bar and put in place a system for support that is robust and comprehensive.
As Marc, who has the profile of the perfect target audience for the LBC, said: I do hope Google will step up and provide more robust support as things do and will continue to happen.