Understanding Google My Business & Local Search
Google Maps Florist Hijackings Still Showing in 10 Pack
9/25/08 9:30 pm Google has removed the deceptive listing and returned Kalman Belli Florist to the 10 Pack. This was reported into Google Groups earlier today by the owner.
9/24/08 10:00 pm Google has yet to remove this hijacked listing and restore the original florist to their position in the Local 10-Pack.
9/21/08- Remnants of last week's floral hijackings are still showing in the Local 10-Pack: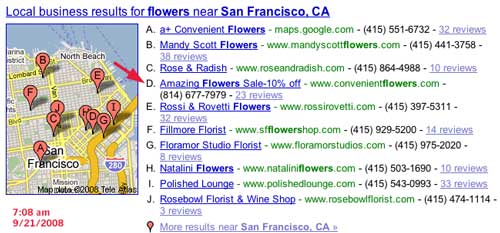 Here is a Groups correspondence from one of the affected merchants:

======================================
TOPIC: Flowers San Francisco
======================================
== 1 of 1 ==
Date: Sat, Sep 20 2008 10:31 am
From: Marc
Our LBC listing for our flower shop Kalman Belli/Podesta Baldocchi
which is under letter D still has the hijacked listing " Amazing
Flowers Sale 10% off… When you click through to the map we are
there however it just does not show up in the main listing and we are
losing business. Can anyone at Google help get rid of this last bit of
hijacked listing and replace it with our proper info etc..?
Amazing Flowers Sale-10% off
– www.convenientflowers.com – (814) 677-7979 – 23 reviews
This should read Podesta Baldocchi or Kalman Belli as does our true
listing shows when you click through to the map site. As well our
reviews are correct.
Thank you
Marc
======================================
The Kalman Belli/Podesta Baldocchi flower shop has claimed their record in the LBC and reverted the hijacked content. He has done his job. Google needs to do theirs. Will Marc need to wait 6 to 8 weeks for a Universal Search index update? Let's hope not.