Understanding Google My Business & Local Search
What is the source of problems in the Google Maps Help Forums?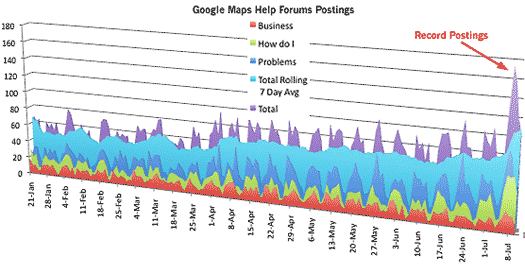 Yesterday I analyzed the rapid increase in postings to the Maps Help Forums. I was curious as to the specifics of why there had been such a large increase so I broke down last Thursday's posting to get a sense of what was going on in the forums and what specific problems were being seen. Here is the count:
—-
| | | |
| --- | --- | --- |
| Business Listing Problems | Single Day Total | Comments |
| Verification Problems | 22 | Google has apparently tightened up phone verification procedures to prevent spamming. This seems to have resulted in more failed attempts and forcing folks to use the post card. There also appears to still be some bugs in the process and like all Google Maps LBC "features" provides very little feedback to the business. Here is an active on-going post of the issue. |
| Listing Not showing | 13 | This problem could be easily solved by providing a link in the LBC to the listing or emailing when a listing goes live. Mostly this is either a timing issue in Maps or a user head space issue. The problem is that the listing might be visible anywhere from immediately to several weeks. It drives folks nuts particularly as the message is vague (Awaiting next update). |
| Unable to Delete Duplicate Business Entry | 12 | This is one of the larger outstanding problems in Maps. The clustering technology seems to create spurious listings in the index and deleting them is counter intuitive. There are a large number of additional posts in this thread as well. Here is another on-going post on the topic. |
| Erroneous Business Listings | 7 | These are usally third parties attempting to fix listings in Maps. In the US there is community edit but many times there is no obvious mechanism to get records fixed and Google doesn't provide any help with this. |
| Flagged Waiting for Check | 4 | Google's feedback when a listings is flagged is abysmal. The user needs to either wait indefinitely for a content check or make random changes to the record. Google should indicate a timeframe for the content check and/or delineate the reason for the flag clearly. Here is a search to show the frequency that this crops up. Time for Google to do something on this one. |
| LBC/Dashboard Problems | 2 | |
| Review Issues | 2 | Google's review policy is very non business friendly. It is difficult of novice users to determine the source and appropriate action to take for spurious listings. |
| Spam Reporting | 2 | Most of this reporting has moved to Google's direct contact form which often feels like putting a request into a black hole. |
| Coupons Not Working | 1 | What can I say. Obviously coupons are the poor step child of Maps. |
| Erroneous Plus Box | 1 | This could be easily solved if Google relied on the LBC for the authoritative data and/or provided a feedback mechanism within the LBC to have it corrected |
| Merging of unrelated businesses | 1 | This is an ongoing problem due to Google's clustering technology. There are many more reports in the posting that focuses on merging. Greater transparency into the cluster and the ability to solve the problem from within the LBC would help. Like the Plus Box problems it is hard to understand why Google doesn't tust verified data from the LBC over other signals. |
| | | |
| Map and Mapping Issues | | |
| Underlying Mapping or Direction Error | 25 | Far and away the biggest problem is the inaccuracy of the underlying maps data. This affects general users and businesses as well as some towns have very outdated information and it is difficult to get it corrected. |
| API/CopyRight | 12 | The appropriate copyright uses could be better delineated and highlighted in the Help area. |
| MyMaps Problem/Question | 11 | |
| Missing feature or service area | 9 | Mostly questions about why a certain country is covered. |
| Need Instructions | 6 | |
| Maps not working on my computer | 5 | |
| How to work with Google | 4 | |
| Streetview Issues | 3 | |
I could hypothesize a number of both internal and external of factors influencing the increase in postings. Since I have not done a comparison over time they should not be considered at all authoritative. It appears that it is a combination of long term issues (like underlying Map data quality), newly created bugs and spam fighting techniques (verification) as well as ongoing interface issues.
I have not tabulated the number of unanswered questions. But at the rate of 125 new posts a day, thats 45,000 some odd folks during a year getting a taste of Google's not very active support system.