Understanding Google My Business & Local Search
Postings in Google Maps Forums Skyrocket
Last week (July 4-10th) postings in the Maps Help Forums took a leap, hitting record highs for both single day totals and weekly totals. On Tuesday, July 7th, total postings in the three main forums for reporting problems totaled 173 postings versus the previous single day high of 112 postings. The weekly postings for the forums which had been running around 500 total postings per week jumped to 772 even though they included the very low volume 4th of July holiday.
This chart undercounts total postings to some extent as it doesn't reflect new postings in on-going threads.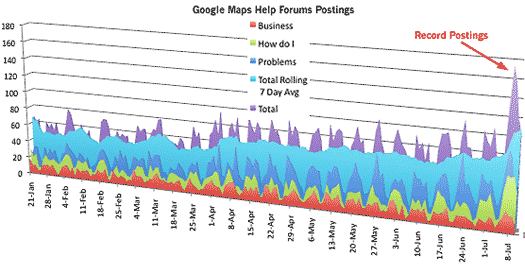 Last week , Google commented in their Google Maps Water Cooler Blog about their support intentions in Maps.  They noted:
We recognize how important it is for business owners to be able to list their business accurately on Google Maps, and how frustrating it can be when this is harder than it should be.
Since we can't respond to every problem individually, we put a lot of effort into helping users help themselves, and each other. When creating help resources for the Local Business Center — the User Guide, the Help Center, the Help Forum, and the Water Cooler blog — we do our best to give business owners access to the information that will help fix their problems.
Anil Dash has pointed out that perhaps Chrome reflects Google's Microsoft Moment. He said: "Google has made commendable steps towards communicating with those outside of its sphere of influence in the tech world. But the messages will be incomplete or insufficient as long as Google doesn't truly internalize and accept that its public perception is about to change radically. The era of Google as a trusted, "non-evil" startup whose actions are automatically assumed to be benevolent is over".
The rising tide of unsupported problems in the Maps world reflects a similar problem for Google. Only time will tell if Google's hands off approach to supporting the SMB in Maps will succeed but the rising tide of reports to the forums seem to indicate that it might be a failing project.