Understanding Google My Business & Local Search
Reputation Management and Local Name Changes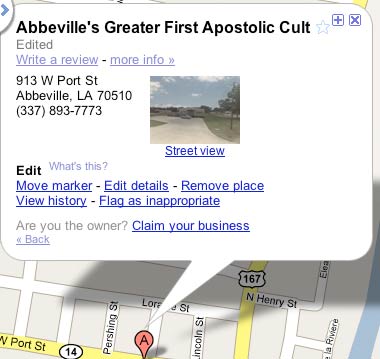 Much has been written about reputation management in the Local arena that focuses on tracking internet wide mentions of your company and dealing with negative reviews. As Miriam Ellis points out, communication with the unhappy party can go a long way towards resolving many  online reputation issues.
But what if you are unable to track the negative change and unable to find or communicate with the unhappy "soul" who is responsible?
Since Google has opened up Maps to community edits there is a new reputation management risk that is very hard to track, community edit company name changes. In November of 2008 I noted in When will Maps Edit Wars go Postal?: 
When will politics enter the wiki world of Google Maps hijacking? In the not too distant future, the next frontier for use of the Maps community edit feature could very well be as a virtual reflection of real politics. The disputes of the world often shift to the internet as the broad reach of the platform creates opportunity for widespread impact and the anonminity provides cover to the perpetrators.
This post in the forum lead me to realize that that the capability to affect reputation in Maps has become grass roots and is now reaching into the deepest corners of the country.
Question: My buisness name was defaced…
I need to find out who defaced my buisiness name on google maps
I have since changed the listing back to what it is supposed to be. Our Church has been defaced by a user by the name of "Melissa" On May the 19th this year the "Lafayette's Greater First Apostolic Church" listing was changed to "Lafayette's Greater First Apostolic Cult". This is the actual listing as of earlier this afternoon
Lafayette's Greater First Apostolic Cult Stephen D. Schwing, Charismatic Cult Leader? – more info »
717 Duhon Rd, Lafayette, LA? – (337) 981-7777?
Category: Church & Religious Associations & Organizations
This Google user also changed our sister churches listings in Abbeville, Carencro, Jennings, and Rayne, LA. For interest sake, I did not change the listing for Abbeville. It is very important to my pastor that I find out who this user is.
The obvious solution is to claim and manage your own record in Maps. But probably only 15% of businesses have done so and as far as I know if you haven't claimed your record in Maps there is no way to detect changes to it. Most businesses and organizations move through life giving nary a thought to their Maps record until they hear a complaint from one of their clients. This Church record above was changed on May 20th (according to the Edit History) and has just now been edited back to original. It still not has not been claimed.
This problem does not lie with Google alone as most Local Directories have little in the way of preventing someone besides the business owner from editing the record. While Google Maps has the most visibility, a motivated user could literally change hundreds of listing throughout the US (and world) leaving a trail that would be difficult to follow let alone correct.