Understanding Google My Business & Local Search
Will David Mihm get lost in the Big Apple?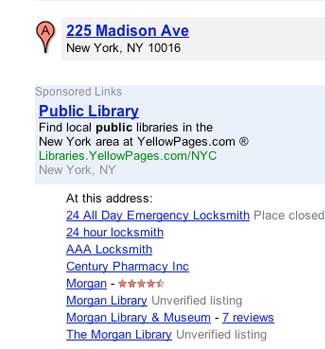 Portland web designer and search consultant, David Mihm,  is heading to SES NY next week to speak. He was exploring Google Maps and he sent me this search: Morgan Library at 225 Madison Ave, NYC that he had looked up in anticipation of his trip. David noted to me that he "was looking forward to seeing the new Renzo Piano addition to the library …  I was sad to see that I would need to slog through a gauntlet of locksmith storefronts before I was allowed to enter."  
In some ways the result encapsulates all that is not quite right with Maps. One can't really extrapolate a generality from a specific but this single Map result does seem to capture many of the problems a given business might face while attempting to project itself into Google Maps…. 3 mapspam entries, one erroneously located drug store via a YellowPage error (it is really located at 225 Madison St) and the inability of Google's clustering algorithm to correctly consolidate 4 listings for the Morgan Library all listed at the one address.  
The result probably won't keep David from his desired rounds. In the end, with the big dance in full swing, I find it very unlikely that David would be exploring Renzo Pianos rather than glued to the TV protecting his pool investments. But who knows?