Understanding Google My Business & Local Search
Google Maps: Cleaning up the Index
A number of weeks ago Google announced that they had closed one LBC security hole that allowed mapjackings, last week they indicated that they had closed yet another. Yesterday I highlighted a prominent mapjacking of The Plaza Hotel that Google almost immediately remedied. Kudos to Google for all these moves. But are they enough?
Today I was mapjack cruising and found this OneBox listing for the search phrase Locksmith in Detroit, MI: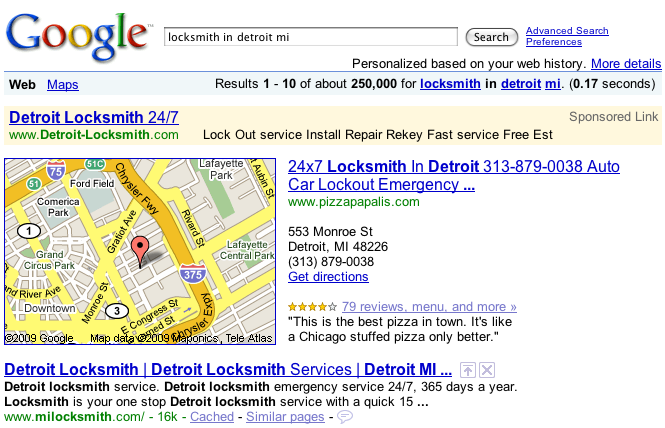 Google's strategy to only remove high profile problems leaves these many, many polluted listings in the index affecting both users and businesses alike. Is it really fixed? Perhaps I am naive but when the plumbing breaks you don't just seal the leak you clean up the mess from the broken sewage pipe.
I am confident that Pizza Papalis isn't too happy about standing downhill from this particular pipe.
In a related story, Steve Hatcher, a local search marketer, was in Portland last week for SEMpdx SearchFest 09 and saw this Fox News report on the Portland nightly news detailing the Locksmith scam. It was noted in the video that the Google results led to a Pizza Parlor. An interesting tidbit was that these scam locksmiths will gain entry to anyone's house on your behalf, not just yours.