Understanding Google My Business & Local Search
Google Maps Vs. Mapquest User Engagement
Google has been doing its darndest to catch Mapquest and become the most visited mapping site…seems that they have been succeeding in that, having caught up and possibly passing Mapquest.
If this Google Trends Chart is any indication, it also appears that users are actively looking for Google Maps and that their mind share in search is growing: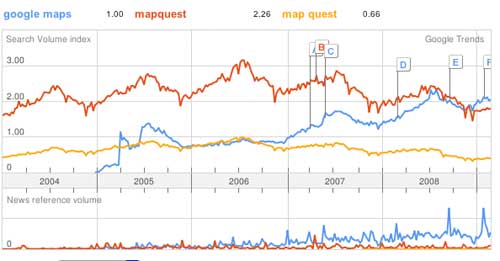 Google has been adding a number of features that should also increase user engagement. They have added expanded Streetview, Community Edits and more. So why then, does Hitwise show that Google Maps has significantly lower weekly average visit duration times than Mapquest and they are not increasing relative to Mapquest?