Understanding Google My Business & Local Search
Google Map Local Business Center Update – New Interface & Features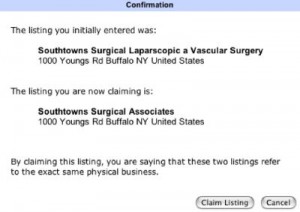 Update 6/16/08: According to Brett Gilbertson, the new interface is available in Australia and in Canada but according to Martijn Beijk not in Europe as yet. Also of note is that the bulk upload capabilities are not included in the new interface. For a work around for the absent bulk upload, read the comments below.
Google appears to be in the process of a major facelift to the Local Business Center interface. The new interface:
•asks your business name and lists out a choice of countries
•checks against and match the business up to a listing already in Maps at that address,
•requires confirmation that the business is yours
•takes you a new single page entry from with no tabs
•and then onto the PIN verification
The upgrade consolidates the interface and appears to standardize it accross the 24 countries listed. It appears that the upgrade is on-going as not all fields were functional in my test. The verification and matching of your entry with an existing business should limit duplicate erroneous entries and may play a role in spam control.
Another difference was that it now once again requires that I receive and enter a PIN. This requirement had been relaxed on LBC accounts with large numbers of entries. That may also be a spam control measure.
Click to view a pdf of the new data entry screen. Here is a screen shot of the old tabbed interface for reference. Some additional screen shots of the new steps and processes….

Click to view larger, scroll for the balance of images: